Company Profile: Iberdrola
We Mean Business coalition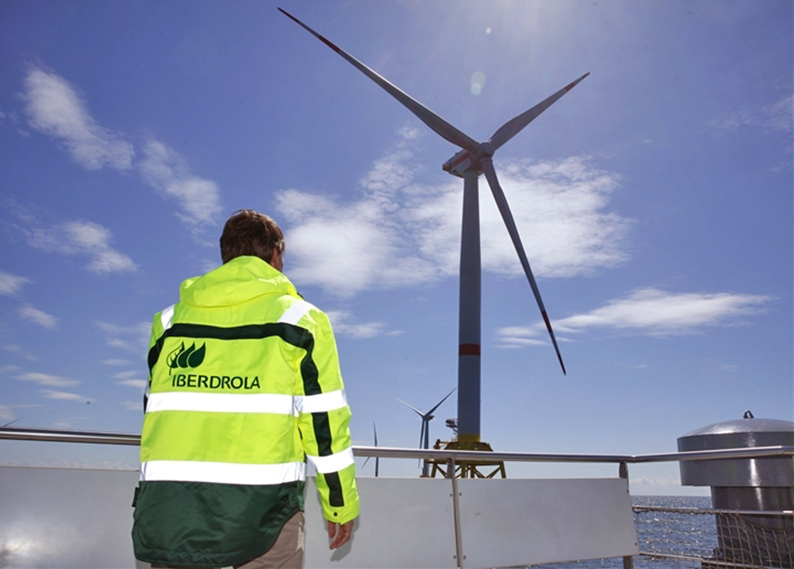 Iberdrola is a world leading power utility with net revenues of over $40 billion in 2019, focusing on renewable energy, smart grids, storage, and electric mobility.
Headquartered in Spain, the company operates in more than 30 countries, with a workforce of more than 35,000 people and supplies power for 100 million people.
Commitments 
Iberdrola has an approved science-based targets to reduce absolute scope 1, 2 and 3 GHG emissions 43% by 2030 from a 2017 base year.
Iberdrola is committed to being carbon neutral in Europe by 2030 and globally by 2050.
Iberdrola reached 39% of total electricity production with renewable energy in 2019.
Iberdrola is also committed to responsible corporate engagement in climate policy, to implement the recommendations of the Task Force on Climate-related Financial Disclosures.
Iberdrola has committed to bringing electricity to 14 million people by 2025 who today lack access to this energy source.
Emission reduction: decoupling growth from emissions
Direct (Scope 1) CO2 emissions from production facilities fell 1.6% to 13.4 Mt in 2019, from 13.6 Mt in 2018.
Indirect (Scope 2) CO2 emissions fell 18% to 2.08 Mt in 2019, from 2.54 Mt in 2018.
Value chain (Scope 3) CO2 emissions: 54.2 Mt in 2019, and 51.1 Mt in 2018.
From its renewable energy installations, Iberdrola estimates annual CO2e savings of more than 15 Mt CO2
In 2019, Iberdrola achieved a 50% decrease of specific SO2 emissions compared to 2018 figures.
More than two thirds of Iberdrola's installed capacity is emission free (68%).
Renewable electricity
At year-end 2019, Iberdrola had 52,082 MW of installed capacity, 62% of the total corresponding to renewable technologies.
Investments in renewables will enable Iberdrola to reach 60 gigawatts (GW) installed capacity in 2025, after hitting 44 GW in 2022. This will mean doubling current capacity while giving a major boost to offshore wind technology, with 4 GW at the end of the period. The plan will also allow Iberdrola to grow in solar photovoltaic, with a forecast of 16 GW installed at the end of the period, and to reinforce its leadership in onshore wind and hydroelectric, with 26 GW and 14 GW installed in 2025, respectively.
Iberdrola´s chairman stated " After 20 years of anticipating the energy transition, our business model positions us as a key agent in the transformation of the industrial fabric. With our experience, our engagement with society and our financial strength, we are advancing a model for long-term sustainable economic growth capable of meeting the current challenges of society."
ScottishPower has become the first integrated energy company in the UK to generate 100% renewable energy.
Iberdrola has closed 17 coal and fuel oil plants since 2001 all over the world.
Their decarbonization strategy of "always working with local authorities to guarantee jobs and minimize impact on supply chain and local economy" has led to renewable energy sources with a capacity of more than 32,000 MW being installed, adding more than 2.7 GW during the 2018-2019 period.
Electric vehicles
Iberdrola has a Sustainable Mobility Plan to reduce emissions, promote energy efficiency, improve the quality of life of the people living in the areas where the group operates and raise awareness among employees.
Iberdrola Smart Mobility Plan envisages the deployment of 150,000 electric vehicle charging points mainly in Spain by 2025. The company has already begun the deployment of the largest network of fast charging stations for electric vehicles on Spain's main motorways and corridors. The electricity supplied at these recharging points will be 100% green.
It was the first Spanish company to launch a shared electric car service among its employees to handle commercial activities in Madrid, Bilbao, Seville, Valencia, Valladolid and Barcelona.
Iberdrola has become the first Spanish company to join the Climate Group EV100 initiative, a program that unites companies around the world committed to speeding up the transition to electric vehicles, and making electric transport the new standard by 2030. In this context, Iberdrola plans to electrify its entire vehicle fleet in Spain and the United Kingdom and provide charging facilities for its staff by 2030.
The company continues to launch since 2016 a financial support program for employees to help them purchase 100% EVs and grants for installing charging stations.
Iberdrola also has joined the International Transport Forum's Corporate Partnership Board to work of topics related to sustainability, the decarbonisation of transport, innovation and workforce diversity.
Committed to the Green Recovery
Iberdrola is committed to accelerating its investments in renewable energies, digitalisation and electrical mobility to boost economic and employment recovery.
The company will invest €10 billion in 2020, helping to revive the economy and employment. Iberdrola will hire about 20,000 new professionals by 2025 and, in the last year, more than 1,700 young people under 30 years of age joined its workforce.
Iberdrola has more than 22,000 suppliers, generating 500,000 jobs worldwide, by 2025.
While promoting the recovery, the company continues setting the foundations for an energy system fully align with Paris Agreement goals. With this aim, Iberdrola has recently launched a €75 billion investment plan to 2025, focused on renewable energies, networks and other industrial solutions aligned with climate neutrality.
Investments in renewables will enable Iberdrola to reach 60 gigawatts (GW) installed capacity in 2025, doubling current capacity and giving a mayor boost to offshore wind technology.
Energy networks continue to be considered by the group as a key factor in the electrification of the economy. Iberdrola will continue to digitise its networks as a key element of smart grids that will ensure the massive incorporation of renewables. By the end of 2025, Iberdrola will have installed more than 21 million smart meters.
Beyond renewables and networks, Iberdrola's will continue at the forefront of the green recovery and industrial transition towards climate neutrality though strategic investments and partnerships on green hydrogen.
Beyond its own activities, Iberdrola is leading at corporate level the advocacy activities in support to a green approach in the recovery plans all across the globe. Some remarkable Declarations, Alliances and Campaigns supported are:
Uniting Business and Government to Recover Better. This UN Global Compact statement backed by over 170 CEOs is the largest initiate put in motion by the United Nations and brings businesses and governments together to streamline recovery, calling on governments to focus on a faster and fairer transition geared towards green economy by grounding recovery policies and plans in the latest climate science.
Green Recovery Call. A European alliance, launched by Pascal Canfin -Chair of the Environment Committee at the European Parliament-, that gathers a wide-ranging group of ministers, MEPs, CEOs, NGOs & Trade Unions who support the European Green Deal as a growth roadmap for the EU.
Build back better (COVID-19 Policy Response). A global business campaign that urge policy makers to align economic recovery with climate action, leading by their example as companies that have set themselves up for long-term success in a zero-carbon future.
Unique innovations 
Iberdrola is the world's largest corporate issuer of green bonds; from 2014 to date it issued more than €11,400 million in green bonds and has closed the world's largest operation of credit lines reconfigured subject to sustainability criteria, in the amount of €9,000 million, and more than 1,000 million in green loans.
In March 2019, Iberdrola signed a new sustainable credit deal for €1.5 billion linked to the UN Agenda 2030 SDGs.
The East Anglia One offshore wind farm in the UK required the largest alternating current (AC) offshore substation ever built.
Policy advocacy 
In the context of the global and regional climate action summits and policy debates, Iberdrola has been supporting the main milestones of the global climate agenda, such as the United Nations Framework Convention on Climate Change (UNFCCC) and the Marrakech Partnership activities, in order to achieve greater urgency and ambition in the fight against climate change. Iberdrola has been an official sponsor of their annual conference in 2017, 2018, and 2019 (COP23, COP24 and COP 25).
Beyond UNFCCC process, Iberdrola is fully engaged with an ambitious approach in the global climate agenda through intense participation in the main global alliances and organizations: United Nations Global Compact (LEAD company and patronage of climate action platform "Business Ambition for Climate and Health"); World Business Council for Sustainable Development; Corporate Leaders Group; Powering Past Coal Alliance; Energy Transition Commission, European Climate Foundation and Carbon Pricing Leadership Coalition.
Iberdrola is active member of CO2 Carbon Pricing Leadership Coalition – CPLC (World Bank) and participated in the Carbon Pricing Corridors project (promoted by CDP, We Mean Business and the Carbon Pricing Leadership Coalition) that, provided market insights into the future impact of carbon pricing and explored the carbon-related price signals that would decarbonize electricity generation and heavy industry through the short to medium-term (2020, 2025, 2030 and 2035) and help deliver a sub-2°C world as defined by the Paris Agreement.
It was especially remarkable the leadership of the company in the Climate Summit of the Secretary General of the United Nations in New York in September 2019, engaging at the highest level with the main action streams (mitigation, energy transition, just transition…) and joining some of the most relevant pledges such as the Business Ambition 1,5 oC declaration, aimed at aligning business activities with limiting global temperature rise to 1.5°C above pre-industrial levels, and the Just Transition and Decent Jobs Pledge, encouraging companies to following ILO core labour standards with respect to their own employees, and use contractors who also comply with these standards.
Iberdrola has been one of the leading companies that publicly endorses the European Green Deal and the EU climate neutrality target by 2050, co-organizing a high level event at COP 25 in Madrid with European Commission and CLG Europe, with the participation of Vice-president Timmermans and Ignacio S. Galán, Chairman and CEO of Iberdrola.
Within the roadmap towards climate neutrality, Iberdrola has advocated for an ambitious approach to fully decarbonize the energy sector by 2050 as a source of opportunities. In collaboration with Afry consulting group, it has been developed a thorough assessment of this transition towards a decarbonized energy sector at EU level. This report was launched at a high level webinar with the participation of the European Commission, co-organized with Euractiv in June 2020. It showed that the decarbonisation of the European energy system in 2050 is possible, although ambitious, through a comprehensive electrification of transport and heat, based on very high penetration of renewable generation.
On the way to COP26, to be held in Glasgow from 1 to 12 November 2021, Iberdrola is working intensively to keep climate action momentum and urgency, by example and through various campaigns and activities, to support an ambitious approach when renewing political commitments— the so-called nationally determined contributions, or NDCs — which countries adhered to under the 2015 Paris Agreement.
Within this scenario, Iberdrola has explicitly supported the "Race to Zero" campaign, which was launched to update and bolster the commitments undertaken by companies, governments and NGOs during the United Nations General Assembly in 2019 and COP25 in Madrid, and continues a strong engagement with the main agenda milestones throughout the year (Race to Zero Dialogues, Paris Agreement anniversary).
Leadership
Thanks to the significant degree of alignment between Iberdrola's strategy and the objectives of the Paris Agreement, Iberdrola was one of the six companies selected by the United Nations to participate in the Talanoa Dialogue sessions in 2018, one of the first companies to set a climate target aligned with the net zero emission economy by 2050 and one of the few companies to join the plenary of the Climate Action Summit in September 2019, organized by the United Nations Secretary General.
For the fifth consecutive year, Iberdrola organized a cycling expedition dubbed "Moving for Climate NOW". A group of COP25 participants cycled over 500 kilometers from Salamanca to Madrid before arriving at the headquarters of the COP25 in Madrid, where they delivered its Manifesto for Climate Action to the Executive Secretariat of the United Nations Framework Convention on Climate Change, the Chilean Presidency and other authorities. The Manifesto delivered points to the need to set more ambitious climate targets if we are to achieve zero net emissions by 2050. This initiative will also be organized for COP26.
Iberdrola, only European electric utility included in the 21 editions of the Dow Jones Sustainability Index.
Iberdrola were selected in 2020 among the 100 most sustainable companies in the world as part of the Global 100.
The group plans to install 600 MW of green hydrogen by 2025, which it will increase to 800 MW in 2027. The company is already working alongside Fertiberia to develop Europe's largest green hydrogen plant for industrial use, which will be operational by 2021 with an investment of 150 million euros.
Iberdrola has developed an intense activity in the field of clean energy power supply. Especially remarkable is their agreement with companies as Google, Apple, Amazon, Orange or Vodafone.
ScottishPower will be Principal Partner of the COP26.
Sources
Iberdrola Integrated Report 2020