Company Profile: Rolls-Royce
We Mean Business coalition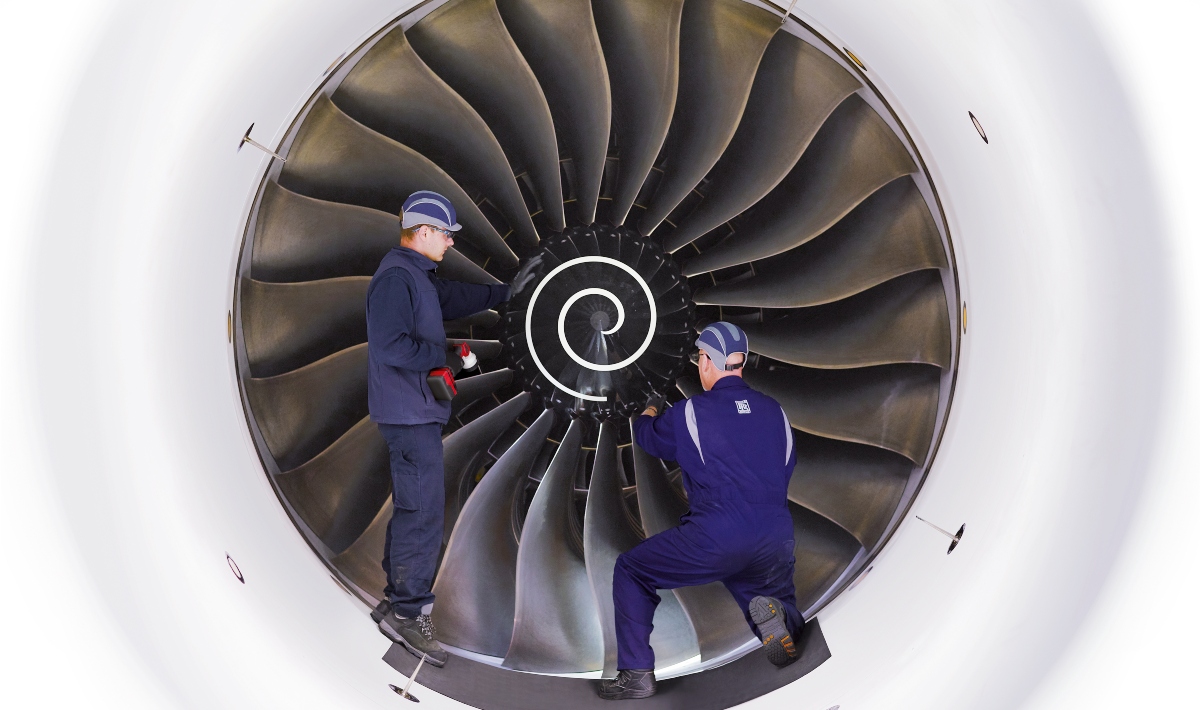 Rolls-Royce is one of the world's leading industrial technology companies, pioneering technologies across civil aerospace, defence, land and sea engines, distributed energy solutions and nuclear power. Rolls-Royce employs some 55,000 people worldwide in over 50 countries and generated revenues of £15.7 billion ($19.5 billion) in 2018. The company is combining distinct engineering disciplines to produce state-of-the-art electromechanical and hybrid power systems, while harnessing the potential of electrification. 
Commitments:
Rolls-Royce has ambitious targets to reduce greenhouse gas (GHG) emissions associated with its operations and facilities to net-zero by 2030. 

Rolls-Royce is one of seven aerospace manufacturers to make a

public commitment

to sharing approaches that will drive the sustainability of aviation and reach the Air Transport Action Group (ATAG) targets. These targets are to reduce net CO

2

emissions from aviation to 2005 levels by 2050; and to limit the growth of net CO

2

emissions by 2020. 

Rolls-Royce is also part of the Advisory Council for Aviation Research (

ACARE

) which has committed to reducing new aircraft CO

2

emissions by 75% and nitrogen oxide (NOx) emissions by 90% per passenger kilometre by 2050.
Emissions reductions:
Rolls-Royce has the world's most efficient aero engine flying today, the

Trent XWB

, powering the Airbus A350.

Rolls-Royce's new

Pearl 15

engine for business aircraft includes an ultra-low emissions combustion system, delivering a 7% improvement in specific fuel consumption and best in class NOx emissions.

Rolls-Royce's

hybrid powerpack

for rail locomotives reduces fuel consumption and emissions by a quarter, NOx emissions by up to 70%, particulate emissions by around 90% and improves the lives of people living near railway stations by reducing noise by around 75%.

Rolls-Royce's

microgrid solutions

can boost the take-up of renewable energy sources by providing security of supply.

In Rolls-Royce's own operations, the company has reduced GHG emissions by 21%, energy consumption by 20% and waste to landfill by 67% since 2014. 

Rolls-Royce's '

Revert

' programme of high-value metal recycling saves over 90,000 tonnes of CO2

2

a year compared to using new material.
Impact areas:
Rolls-Royce has improved the efficiency of commercial flight by more than 40%, compared to the first generation of gas turbine aero engines.

Each year the company invests approximately £1.4 billion ($1.7 billion) in research and development, two-thirds of which is dedicated to improving the environmental performance of its products.

Rolls-Royce engines are capable of using sustainable fuels today and the company is fully supportive of any fuel, which is sustainable, scalable, and compatible. The company aims to work closely with fuel producers, operators, airports, environmental organizations and government agencies to bring these fuels into widespread aviation use well ahead of 2050.

Rolls-Royce's small modular nuclear reactor (SMR) power plant concept offers the potential to further accelerate the decarbonization of the energy sector and the company has built a consortium that can deliver on this promise.
Future concepts and unique innovations:
Source:
Rolls-Royce – Sustainability