COP25: Time for governments to harness the zero-carbon future
Nigel Topping, CEO of the We Mean Business coalition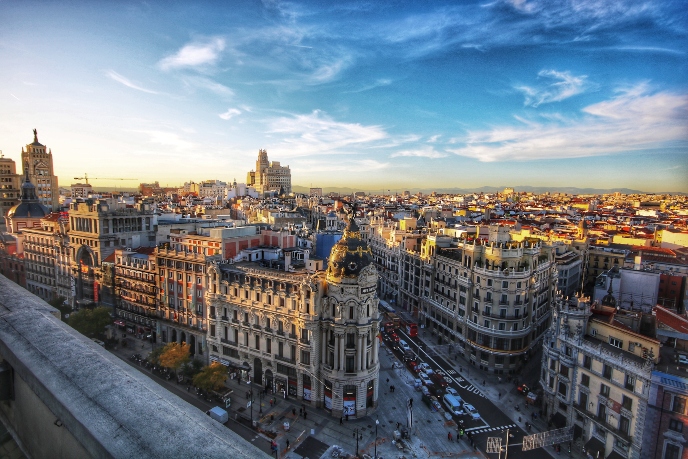 The UN Climate Negotiations have always been a focal point for the world's attention on the collective efforts to tackle climate change. But in the years since the signing of the Paris Agreement there has been growing frustration at the slow pace of change in the real economy and the real world. 
This frustration has been evident on the streets of cities and towns all over the world, with last September's youth strikes seeing millions of young people on strike, demanding faster climate action. 
They, and others like them, are reacting to the alarming increase in extreme weather, forest fires, droughts, crop failures and air pollution. People are seeing and feeling these impacts first hand and rightly demanding faster action than ever before from leaders everywhere, to help tackle the growing problems. 
They are also reacting to the undeniable fact that global emissions are still rising. Global CO2 emissions from fossil fuel combustion and processes increased by 1.9% in 2018 compared with 2017, according to a report from the European Commission's Joint Research Centre. A stark reminder of the scale of change required to reach the most ambitious goals of the Paris Agreement – limiting global warming to a maximum of 1.5ºC and reaching net-zero emissions by 2050 or sooner. 
However, while the impacts of climate change are mounting fast, the good news is there is growing evidence that the transition to a zero-carbon economy is achievable by 2050, already underway and gaining momentum. It can bring huge economic, social and health benefits, including jobs, growth, competitiveness and cleaner air. Thousands of companies all over the world have begun to transition their business models and are ready to stand with governments to help drive the change required. 
To date, the total number of companies committed to bold climate action through the We Mean Business coalition partners' initiatives has surpassed 1,060 – with a market capitalization of over US$20.1 trillion, which represents nearly one quarter of the entire global economy. 
And over 100 major companies have committed to the highest level of ambition – setting climate targets across their operations and value chains aligned with limiting global temperature rise to 1.5°C above pre-industrial levels and reaching net-zero emissions by no later than 2050. These include Indian conglomerate Mahindra, German industrial group SAP and European power company Iberdrola. And the total number of companies committed to setting a science-based target has grown to near 700, from just a handful in the run up to the signing of the Paris Agreement.  
These companies are clear examples of what is possible, motivated by a business imperative to update their strategies to be competitive in the transition to a zero-carbon economy. What they need from governments is ambitious climate policies to make that transition path clear. This clarity helps them and the entire economy transition smoothly and quickly enough to avoid the worst impacts of climate. 
Time for governments to step up 
Leaders at COP25 should take confidence from the groundswell of business action, recognize the many economic opportunities of committing to net-zero by 2050 and give companies the clarity and confidence they need to invest in the products, services and business models of the future. 
When business action is paired with clear, consistent government policies it results in positively reinforcing ambition loops that will accelerate the full decarbonization of every system of the economy at the pace and scale that science tells us is necessary.
Not only will it play a vital role in tackling climate change and limiting global emissions, but it will help boost industrial competitiveness and deliver good, secure jobs over the long-term. 
To ensure the economy is positioned to succeed in the transition, government leaders have to ask themselves if they are ahead of the curve. If they are not, there is a risk of being left behind as other countries take the initiative, plan carefully to ensure a smooth and just transition, and reap the rewards.   
Businesses are looking to governments to match their ambition and accelerate the transition to a just and prosperous zero-carbon future, that leaves no one behind, through:
Urgently committing to achieve economy-wide net-zero emissions by 2050 at the latest

Strengthening their nationally determined contributions and 2030 targets in line with a

1.5ºC trajectory

And laying out national policies, plans and laws to enable the achievement of these

targets
This is a transition that is fundamental to any nation's entire economy and every government department, not just the responsibility of the environment ministry. 
For finance ministers, the focus should be on maximising investment in clean growth to bring economic benefits, including jobs. For energy ministers, the priority is to back the rapid transition to renewables as it's the cheapest source of new power, helping to provide energy security and open up new market opportunities. For agriculture ministers, any country's agriculture industry is a vital cornerstone in creating a net-zero economy, which can be fully harnessed while ensuring enough healthy food for citizens. 
For health ministers, the health benefits and cost savings of reducing pollution are huge, and can help protect citizens by creating clean and safe environments. For industry ministers, now is the time to make critical investments in heavy industries, and create clear demand signals for zero-carbon products like steel and cement to get them on the path to net-zero emissions, while attracting investment and future-proofing jobs. While transport ministers can harness the power of electric vehicles and support their rollout by providing infrastructure and policy support.  
The transition to a zero-carbon economy is already happening, but not fast enough. It's the job of national and sub-national governments to accelerate that transition. This is a critical time for countries to honor the Paris Agreement five-year review cycle, strengthen their Nationally Determined Contributions and unleash a new wave of climate action towards the highest level of ambition under the Paris Agreement. 
What business wants to see from policy makers at COP25 >
Better Future Faster – Zero-Carbon Economy >
Find out how your company can Take Action >