Iberdrola is harnessing the business opportunity of climate action
We Mean Business coalition
Iberdrola is an international power utility with a presence in many countries including Spain, the United States, the United Kingdom, Mexico and Brazil, and is also doing business in Germany, Italy, France, Portugal, Hungary and Greece among other countries. With a workforce of 34,000 people, assets worth more than €110 billion and a renewable generation capacity of nearly 30,000 megawatts (MW), the company is fully committed to creating a sustainable and competitive energy system.
Nearly two decades ago, Iberdrola understood that climate change is a real challenge that requires urgent action, but was also aware of the key contribution the electricity sector can play in providing solutions. Iberdrola is now helping to lead the energy transition towards a sustainable future, having two thirds of its installed capacity emission-free and its emissions 38% lower than the average of the European electricity sector.
We spoke with Gonzalo Sáenz de Miera, Director of Climate Change, to find out how Iberdrola is turning climate change into a business opportunity.
THE COMMITMENTS
Iberdrola are committed to setting a science-based target. They are committed to: reduce CO2 intensity emissions by 30% by 2020 compared to a 2007 base year; lower those emissions to less than 150g per kWh by 2030 (a 50% decrease); and to be carbon neutral by 2050.
Iberdrola is also a member of the Low Carbon Technology Partnerships initiative, led by the World Business Council for Sustainable Development, has committed to responsible corporate engagement in climate policy and to implement the recommendations of the Task Force on Climate-related Financial Disclosures. Iberdrola is also a member of the Powering Past Coal Alliance.
WHAT ACTION HAVE YOU TAKEN TO DELIVER AGAINST YOUR CLIMATE COMMITMENTS?
We are innovating and investing to turn the problem of climate change into an opportunity. Right now, we are one of the main investors in low-emission technologies, and a world leader in wind energy. We also invest in smart grids, which are needed for the integration of renewables in the network.
The business is fully committed to the Paris Agreement and achieving goals No. 7 and No. 13 of the UN Sustainable Development Goals. Our business strategy for growth is aligned with this agenda.1
Iberdrola launched its Action Plan on Climate Change some years ago, focusing on four main areas: 1) internal actions on climate change mitigation and adaptation; 2) a leading role in major international organizations and business coalitions; 3) an active involvement in international negotiations under the UNFCCC; and 4) implementation of a Social Awareness Plan with internal and external measures.
WHAT ARE YOUR ACHIEVEMENTS SO FAR?
Iberdrola has avoided 60 mt of CO2 entering the atmosphere in the last three years due to efficiency initiatives, including renewable electricity generation.
As of the first half of 2018, 67% of the total installed capacity of the group is free of emissions, with 60% corresponding to renewable energies. The company has achieved a 15% decrease in specific NOx emissions, a 34% decrease of specific SO2 emissions and a 12% decrease in specific particle emissions compared to 2007 figures.
WHAT STRATEGIES ARE YOU TAKING TO IMPLEMENT THE TARGETS?
Central to our decarbonization and clean energy plan is to retire our fossil fuel plants. We recently announced plans to close our last two coal-fired plants in the world (both located in Spain), which have a combined capacity of 874 MW (1.8% of the group's total installed capacity).
Elsewhere, we're investing in the technology to support our renewable energy infrastructure. An example, for our East Anglia One offshore wind farm in the UK – a €3 billion ($3.5 billion) investment and the biggest renewable project in the world to be developed by a Spanish company – we've just taken delivery of the biggest alternating current (AC) offshore substation ever built.
Iberdrola will continue developing a business strategy fully aligned with climate goals with more than €32 billion investments from 2018 to 2022, focusing on renewable energies (37%) and networks (50%).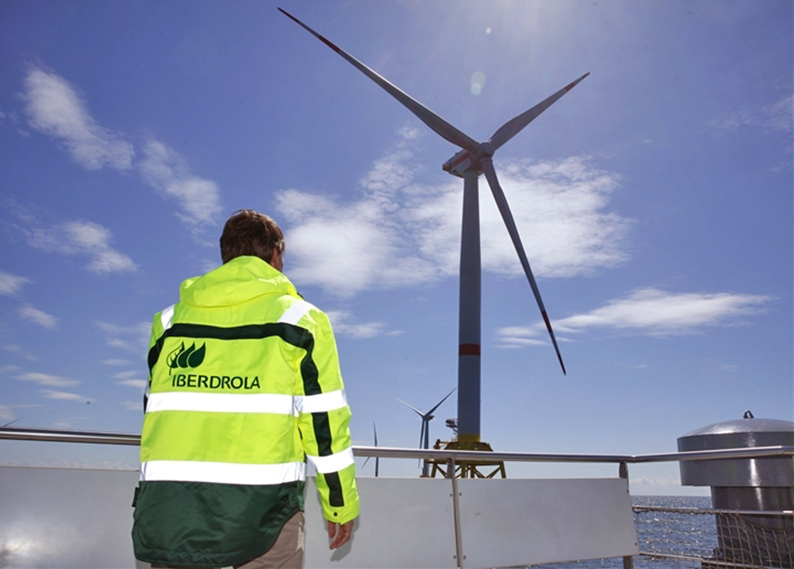 HOW ARE YOU GOING ABOVE AND BEYOND?
We are active contributors to the Talanoa Dialogue, a major international conversation, facilitated by UNFCCC, where nations will take stock of progress and seek to increase global ambitions towards meeting the Paris Agreement goals.
We are also the world's largest corporate issuer of green bonds. Between 2014 and 2018, the amount of green transactions within the capital markets amounted to almost €8.1 billion. We were also the first Spanish company to close a green bond placement in 2014.
We're working to create awareness about climate change and to encourage companies, people and policymakers to take bold action. This includes developing materials, such as podcasts and documentaries.
WHAT ARE THE BENEFITS TO THE COMPANY OF HAVING THE TARGETS?
Since 2001, we have invested close to €100 billion in renewable energy (including hydroelectric power, onshore and offshore wind energy, and solar photovoltaic), as well as in the grids needed to integrate renewable energy, and in efficient storage. On top of that, we have closed 15 coal and oil plants with a combined capacity of 7,500 MW.
This pioneering approach has made the company one of the world leaders in renewable energy, with a capacity of almost 30,000 MW, and the number one wind power producer in the world. But our story has also benefited our shareholders. Thanks to this strategy, Iberdrola is currently bigger, more profitable and more global.
ARE THERE ANY BENEFITS TO THE LOCAL OR NATIONAL ECONOMY?
On a global scale, our climate action has brought about many benefits in contributing to the generation of wealth and employment. We provide stable and quality jobs to a workforce of more than 34,000 people. We made 4,100 new hires in 2017, providing 42 hours of training per employee per year, which is four times the European average.
Meanwhile, we spent €8.7 billion purchasing goods and services from more than 22,000 suppliers in 2017, and our direct tax contribution was more than €7.1 billion. Elsewhere, we are one of only four Spanish companies included in the Bloomberg Gender-Equality Index. Our Electricity for All programme, designed to ensure access to electricity in vulnerable areas in emerging countries, has benefitted more than 4 million people since 2014 and has a new target of reaching 16 million beneficiaries by 2030.
The closing of our coal plants won't affect job stability either, with employees either relocated to other facilities or involved in the decommissioning process.
On top of that, our commitment with sustainable value creation has helped to revitalize other industries and sectors. One example is Iberdrola's relationship with Spanish shipbuilding company Navantia, which is now a technological and efficient supplier of offshore foundations and substations.
WHAT POLICIES HELPED TO ENABLE THE TARGETS?
There are a range of policies that have helped us to implement our climate targets. To deliver on them we need long-term climate strategies consistent with the Paris Agreement's goals and the UN Sustainable Development Goals. These should include:
legally binding decarbonization targets to be reached by 2030 and 2050;
a wide approach to tackle all sectors of the economy; a recognition of the role of public-private partnerships; and
a recognition of climate change as a risk to the economy and the need for a thorough assessment on the level of exposure to different sectors, from a social, economic and industrial perspective.
WHAT POLICIES WOULD MAKE ACHIEVING THE TARGETS EASIER?
We need stringent implementation guidelines for the Paris Agreement at COP24 that sends clear signals to investors and ensures environmental integrity.
We have already called on European policy makers to embrace higher and more ambitious climate policy frameworks to ensure effective implementation of the long-term climate strategy that is currently being developed by the European Commission. Some key elements to include would be:
a thorough diagnosis that recognizes fossil fuel combustion as the main cause of climate change and acknowledges the key role of electrification based on renewables as a means of achieving a sustainable path in the energy sector;
cross-cutting policies such as taxation based on the 'polluter pays principle', elimination of costs not related to supply from electricity prices, removal of fossil fuel subsidies, promotion of information and awareness; and
sectoral plans and measures to address barriers to decarbonization in different fields.
WHAT WIDER IMPACT DO COMPANIES HAVE BY MAKING SUCH COMMITMENTS?
Our climate commitments are a reference for other companies because Iberdrola has demonstrated that climate commitments are aligned to the profitability of the company. That is why we are a leader and the first investor worldwide in renewable energies.
Iberdrola's ambitious approach on climate action, coupled with its active advocacy strategy in terms of climate policy at the international level, are key to support the development of robust climate policy frameworks.
1 Iberdrola's business strategy is fully committed to the UN Sustainable Development Goals as part of the "social dividend" concept included in the company by-laws, which requires the company to play a key contribution to social and economic development of the communities in which it operates and to protect the environment.