Net-zero transition – latest signals of change (05.08.22)
We Mean Business Coalition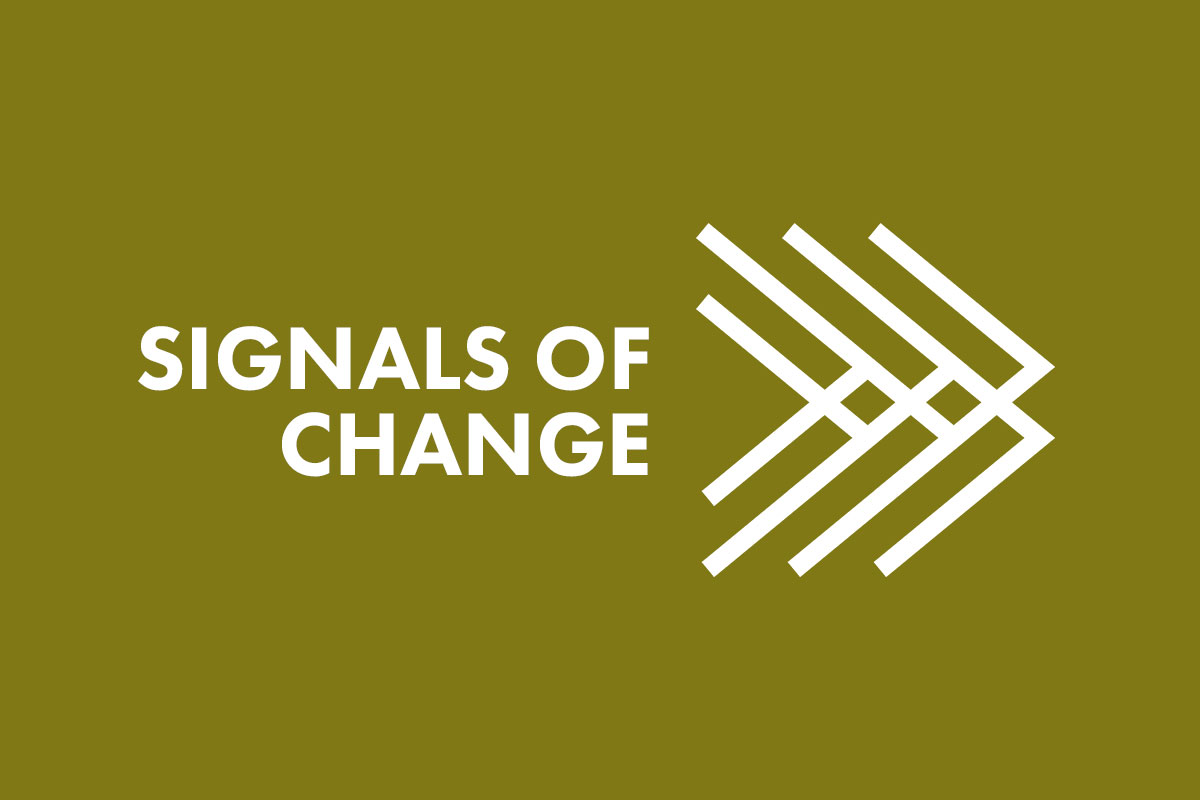 Here are just some of the signals of change from the past week, demonstrating the transition to a resilient and inclusive net-zero economy.
Please note that Signals of Change will now be taking a two-week summer break, back on Friday 26th August.   

Net-Zero Economy 
Democrats in the US Senate sound increasingly confident they have the votes to pass the Inflation Reduction Act of 2022, which will cut both CO2 emissions and methane emissions and will dramatically scale up climate technologies such as clean hydrogen, carbon capture and storage and renewables. Some of the big changes set to come if the bill passes are; clean energy tax credits, electric vehicles incentives, and a fee for industries that produce methane.  
Egypt, the host country for COP27 later this year, wants to ensure there's no backtracking on past commitments to slow the pace of climate change. As the first African country to host a COP meeting in six years, Egypt's focus will also be on ensuring that developing nations can get the funding needed to adapt to the changing climate and to finance their own green transitions.  
India is ready to submit its updated nationally determined commitments (NDCs) to the United Nations. This includes plans to cut emissions intensity of its GDP to 45%, by 2030, from 2005 levels alongside a commitment to pivot half its electricity generation capacity to use clean fuels by 2030.  
Meanwhile, Walmart has issued its latest sustainability report, confirming the success of a $2bn green bond and announcing that the retailer is now halfway to reaching its Project Gigaton value chain decarbonization goal. This goal is the firm's ambitious climate target to reduce or avoid one billion metric tonnes of emissions from its supply chain by 2030. 
Bupa, Haleon, Reckitt and Walgreens Boots Alliance are the new corporate members of the Climate and Health Coalition aimed at interlinking the climate and health crises. 
Energy
Russia's invasion of Ukraine and the resulting turmoil on global energy markets is acting as an "accelerant" for the renewables industry.  In fact, investment in renewables has reached record levels. Mapping the first six months of this year, BloombergNEF's 2022 tracker shows that global investment in renewable energy totalled a record $226bn USD. The same report also shows that global offshore wind investment is up 52% when compared with the same period last year.  
The Biden-Harris administration has announced new plans to lower electricity bills for working families. Remarkable amongst these is a plan to connect families in state-supported rental housing to low-cost community solar power. In some existing programs, such as the Washington, DC Solar for All program, savings to households from subscribing to local community solar can reach up to 50% per year. 
Next to China where the State Grid plans to invest $22bn USD in ultra-high voltage (UHV) power lines. Construction of eight new UHV projects is planned to connect China's far western regions, where solar, wind and hydropower plants are mainly located, to its big cities. China plans 450 gigawatts of solar and wind power generation capacity in the Gobi and other desert regions to meet most of its new energy demand and help achieve its climate goals. 
Lastly, India has ordered the use of cleaner fuels as part of its push for net-zero. The world's third-biggest emitter will seek to mandate the use of a minimum share of non-fossil fuel sources including biomass, ethanol, green hydrogen and ammonia, both for power generation or as a feedstock for manufacturing, according to a document introduced in Parliament on Wednesday. New laws would also penalize industrial operations, vehicles, ships and large buildings for not meeting energy consumption standards.

Transport
Nearly 20 US states and jurisdictions have signed on to an action plan striving for 100% electric medium and heavy-duty vehicle sales by 2050. The plan includes policy recommendations for local lawmakers to consider when crafting legislation aimed at boosting electric truck and bus uptake. A coalition of 17 states plus Washington, D.C., and the Canadian province of Quebec helped to develop the plan. Recommendations include adding more electric charging infrastructure, requiring fleets to submit data about their electric vehicle use and that states subsidize some their fleets' cost differential when buying an electric versus traditional truck. 
Meanwhile, analysts suggest the world could be nearing a critical electric vehicle sales tipping point, when volatile early adoption trends are overtaken by mainstream demand. In fact, sales doubled in 2021 on a year-on-year basis, to hit 6.6 million worldwide. Compared to sales of just 120,000 electric cars in 2012.  
Sticking with electric vehicles, Japanese automaker Nissan has announced plans for a rental push for electric vehicles aimed at keeping precious metals in Japan. The new rental service speaks to a new strategy aimed at preserving the control of critical battery metals such as lithium.  
Next to shipping, and an announcement from two of the largest ports in the world, Singapore and Rotterdam. Together they are partnering to launch what they claim will be the world's longest green corridor for shipping. They intend to have the first sustainable vessels sailing on the route by 2027 by bringing together a broad coalition of shippers, fuel suppliers and other companies to adopt low and zero carbon alternative fuels. 
Sometimes the old ways are the best – especially when it comes to harnessing the power of the wind. And so it's exciting to learn that a new three-year research and development project backed by the Scottish government and industry will develop and test fully automated, emission-reduction sail technology that can be retrofitted to merchant ships. Bringing together major industry players including Malin, Drax, Peel Ports and Lloyd's Register, the initiative will deliver a demonstrator on a commercial ship by 2023. Ahoy!

Land and Nature

In Terrebonne Parrish, Louisiana has completed one of its biggest coastal restoration projects yet, a $167 million project using BP oil spill money. The Terrebonne Basin project increased the size of Timbalier and Trinity-East islands and West Belle Headland as well as creating 8.6 miles (14 kilometres) of beach. From an adaptation perspective, barrier islands and marshes slow storm surge from approaching hurricanes and provide habitat for plants and animals.  
Meanwhile, New Zealand has released its first national plan to protect against climate-driven disasters including floods, wildfires and rising sea levels. The plan comes after weeks of wild weather and flooding across New Zealand. One in seven New Zealanders live in areas prone to flooding, while 10,000 homes are projected to be uninsurable by 2050 due to flood risk.  
On tackling deforestation, UK supermarkets Tesco, Sainsbury's and Waitrose have invested $11M USD in a new facility that will incentivise soy farmers in Brazil to use deforestation-free cultivation methods and eliminate land-use conversion. This funding, raised through green bonds, will provide incentives to 36 farmers for a year-long trial which should then be extended. 
Staying with farming, the results of a 10-year project by the UK Centre for Ecology and Hydrology have revealed that nature-friendly farming methods boost biodiversity without reducing average yields. In the longest-running study of its kind, researchers succeeded in boosting numbers of wildlife essential for agricultural production such as pollinators and predators of crop pests.  
Meanwhile, Genera Mills is partnering with Canadian non-profit ALUS to ramp up regenerative agriculture in Canada. By investing $2.3M USD, General Mills will support the growth of ALUS's Growing Roots pilot program, which is focused on soil health.  

Built Environment and Heavy Industry 
First to Minnesota, where a community initiative is working to lower energy costs for people living in mobile homes. The state's Clean Energy Resource Teams has a goal of reducing the energy burden of all Minnesotans to less than 5% of their income. For the past four years, it's made a special effort to target mobile home communities, where around half of residents earn less than $35,000 per year. Residents are also offered conservation kits that include LEDs, faucet aerators, low-flow shower heads, window cling and heat tape that keeps pipes warm during colder seasons. 
Meanwhile, Scotland has announced that it is to ban all oil and gas-fired boilers in new homes from 2024. Presently home and buildings in Scotland made up one-fifth of the country's emissions. The announcement comes as researchers at Glasgow University have developed a new type of heat pump which could help households save on energy bills and contribute towards net-zero goals. The engineers have built a mechanism that recovers some of the excess thermal energy produced during the pump's operation, which can be stored and reused – reducing power consumption.
On green steel, Salzgitter subsidiary Ilsenburger Grobblech (ILG) and GRI Renewable Industries have signed a partnering agreement to supply low-CO2 steel products in wind towers. Companies can now secure a defined tonnage of green steel today as part of an economic commitment, which is to be produced and supplied from the end of 2025 as part of SALCOS – Salzgitter Low CO₂ Steelmaking.
Lastly, The Green Finance Institute (GFI) has announced a partnership with the Greater Manchester Combined Authority to trial and scale innovative financing solutions for home energy efficiency improvements. These include launching a green bond, with proceeds raised to train retrofit professionals and deliver retrofitting schemes in social housing and other energy-inefficient homes. The plans also include the introduction of green mortgages and rental agreements, with the GFI and council collaborating with landlords, lenders and mortgage intermediaries to design and implement the contracts. 

Commitments:  
14 companies joined the SBTi through the science-based target pathway: 
Dellner Couplers AB – Swedish locomotive components manufacturer 
Ekoten Tekstil Sanayi ve Ticaret A.S. – Turkish textile manufacturer 
Formosa Advanced Technologies Corporation – Taiwanese semiconductor components manufacturer 
Formosa Chemicals and Fibre Corporation – Taiwanese chemicals company 
Formosa Sumco Technology Corporation – Taiwanese semiconductor components manufacturer 
Formosa Taffeta Co. LTD.  – Taiwanese textile manufacturer 
Maritime Transport Ltd – UK-based trucking company 
Naabtaler Milchwerke GmbH & Co. KG Privatmolkerei Bechtel – German dairy company 
Nan Ya Plastics Corporation – Taiwanese chemicals company 
Nan Ya Printed Circuit Board Corporation – Taiwanese electrical components manufacturer 
PG&E Corporation – American electric utilities company 
The Chemours Company – American chemicals company 
Y.R.C.Textile Co.,Ltd. – Thai textile manufacturer   
Yachiyo Engineering Co., Ltd. – Japanese engineering consultant 
25 companies joined the SBTi through the Net Zero Standard commitment pathway:   
Aker Carbon Capture – Norwegian carbon capture technology company  
Aker Solutions – Norwegian engineering company 
BREEDON GROUP plc – UK-based construction materials company 
DLA Piper International – UK-based global law firm 
Exabeam, Inc. – American security software company 
Gold Fields – South African gold mining company 
Gottfried Stiller GmbH | MEGABAD – German retailing company 
Holaluz – Spanish electric utilities company 
Karndean Holdings Limited – UK-based building products company 
Lockton Companies LLP – UK-based insurance brokerage firm         
Lockton Re LLP – UK-based reinsurance company 
MCC Label – American label manufacturer 
Nampak Limited – South African metal packaging company 
Northwest Permanente, PC – American healthcare provider 
redeia – Spanish electric utilities company 
Russell Reynolds Associates – American management consulting company 
Samsung SDS – South Korean software company 
Scholle IPN Netherlands B.V. – Dutch paper packaging company 
SinoPac Financial Holdings Company Limited – Taiwanese financial holdings company 
SURTECO Group SE – German printing services company 
SV Group AG – Swiss hospitality company 
The Royal Mint Limited – UK-based retailing company 
Weetabix Ltd – UK-based food processing company 
Westcon International – American technology provider 
World Wide Technology Holding Co., LLC – American software company 
34 companies added to SBT approved this week:   
Telefónica S.A – Spanish telecommunication company 
TDC NET A/S      – Danish telecommunication company 
Resolute Forest Products – Canadian pulp mills company 
SalMar ASA – Norwegian fish farming company 
Marshalls plc     United Kingdom construction materials company 
Seasalt Limited – UK-based apparel company 
EIZO Corporation – Japanese visual technology company 
Manitou Group – French heavy equipment manufacturer 
Church & Dwight Co. Inc. – American consumer goods manufacturer 
Air New Zealand – New-Zealand-based airline company 
Lufthansa Group – German airline company 
LANXESS AG – German chemicals company 
Furukawa Electric Co., Ltd.     – Japanese electrical equipment manufacturer 
Grosvenor Property UK – UK-based real estate company  
SK Telecom – South Korean telecommunication company 
Fanuc Corporation – Japanese electrical equipment manufacturer  
AVEVA Group PLC – UK-based software company 
Oddbox Delivery Ltd – UK-based food retailer 
SANSHIN Inc. – Japanese building products company 
Daiwa House REIT Investment Corporation – Japanese real estate investment trust  
Tourlane – German tourism services provider      
Kasugai material transportation ltd. – Japanese trucking company 
MARUKI SANGYO Co.,LTD – Japanese chemicals company 
KATAGIRI MEIMOKU KOGYO CO.,LTD – Japanese homebuilding company 
Harita Metal Co.,Ltd. – Japanese metal recycling company 
Yutaka Finepack Co.,Ltd. – Japanese paper packaging company 
Kajikei Iron Works Co.,Ltd. – Japanese railroad transportation company 
SEIKI INDUSTRY Co.,Ltd           Japanese electrical components company 
HeadFirst Group – Dutch human resource services provider 
CyrusOne Inc.    – American real estate investment trust 
Dr. Otto Suwelack Nachf. GmbH&Co.KG – German food and beverage processing company 
Multimek Oy – Finnish construction and engineering company 
Dôen – American apparel company 
Decor (Suzhou) Co.,Ltd – Chinese apparel company 
1 company added to RE100 this week:  
Lear Corporation – American automotive components company 
Total companies committed to SBTi: 3,526 (1,892 committed, 1,634 approved)  
Total companies committed to RE100: 377 
Total companies committed to the SME CH: 4,706 (101 commitments this week) 
Webinars & Events: 
Moral Money Summit Asia: 7-8 September (use COALITION for 20% off)
UN General Assembly: 13 September 2022
Climate Week NYC: 19 – 25 September (submit a proposal)
Global Clean Energy Action Forum: 21 – 23 September
The Economist 2nd Annual Sustainability Week: 3-6 October (use WMBC/S15 for discount)
WBCSD Council Meeting Tokyo 2022: 25-28 October
Moral Money Summit Americas: 26-27 October
COP27: 7-18 November
COP15: 5 –17 December 
 

Coalition jobs:   
Various posts at We Mean Business Coalition 
Various posts at BSR   
Various posts at CDP   
Various posts at Ceres   
Various posts at Climate Group   
Various posts at WBCSD   
Various posts at SBTi   
Various posts at CLG Europe   
Read last week's Signals of Change: Net-zero transition – latest signals of change (29.07.22)