Net-zero transition – latest signals of change (28.10.22)
We Mean Business Coalition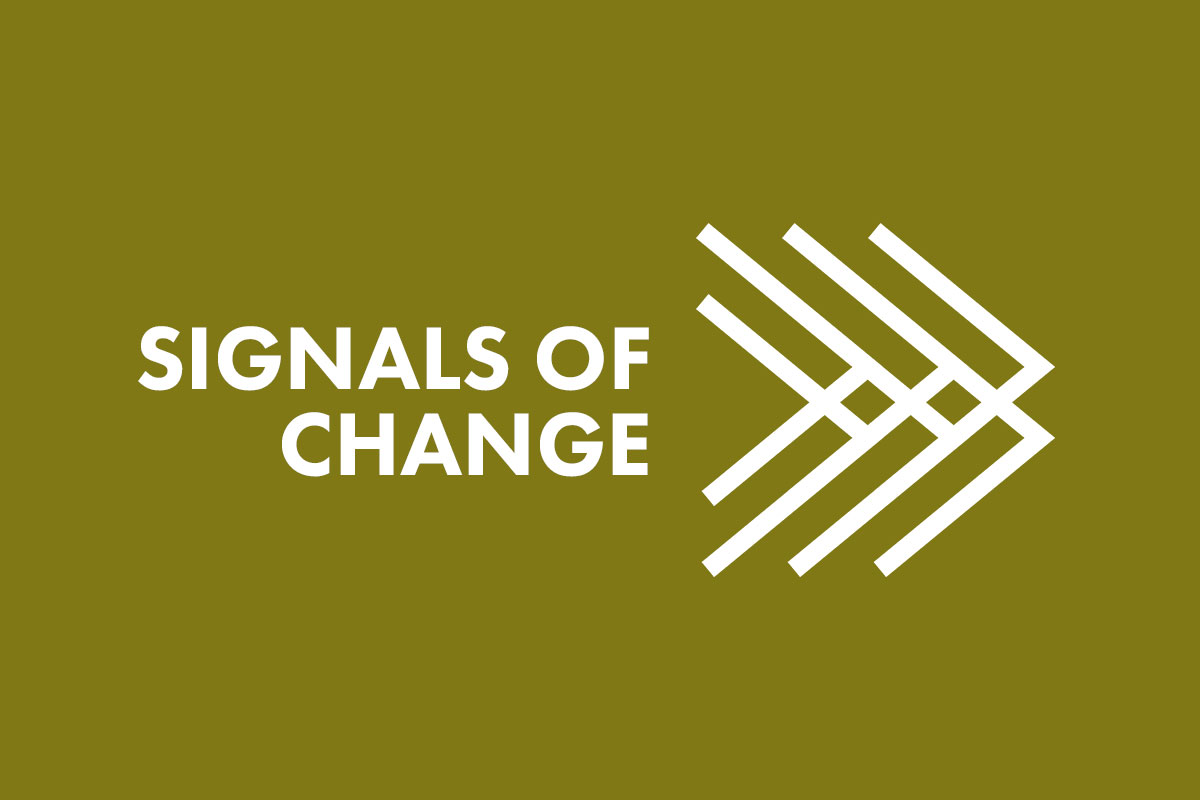 Here are just some of the signals of change from the past week, demonstrating the transition to a resilient and inclusive net-zero economy.
Net Zero Economy 
With just over one week until COP27, a series of major reports made for sobering reading, albeit with glimmers of hope. The International Energy Agency (IEA)'s World Energy Outlook (WEO) forecasted a continued rapid rise in renewables and a peak in carbon emissions by mid-decade. The UNFCCC Nationally Determined Contribution (NDC) Synthesis Report showed countries are bending the curve of global greenhouse (GHG) emissions downward – but underlined that efforts remain insufficient.

Meanwhile, a coalition of international financial institutions overseeing a total of $36 trillion of assets have told some of the world's biggest polluters to reduce CO2 emissions through science-based targets. Credit Agricole SA, Pacific Investment Management Co. and UBS Group AG are among 317 firms that have written to over 1,000 companies calling on them to set goals through the Science Based Targets initiative (SBTi). 
Elsewhere, Australia became the latest country to join the COP26 Global Methane Pledge to reduce emissions of the potent greenhouse gas by 30% by 2030. The world's 11th biggest methane emitter will ramp up efforts to tackle the impact of its gas, coal and agriculture sectors, following last month's new national law enshrining a 43% cut in GHG emissions by the end of the decade. 
And in Singapore, the government has confirmed its goal of reaching net zero by 2050. An island city-state that's vulnerable to rising sea levels, Singapore's net zero plan will rely on importing renewable energy, including exploring clean hydrogen. Private businesses will be encouraged to look at investing in low-carbon hydrogen projects as well as solar and energy storage systems. 
Energy 
Speaking in the wake of the WEO launch, IEA Executive Director Fatih Birol announced that "the golden age of gas is approaching the end." The report argues that the accelerated turn away from fossil fuels spurred by Russia's invasion of Ukraine is already leading to record investment in clean energy. Although the IEA predicts emissions to peak in 2025, it notes that even greater investment is needed to keep hopes of limiting warming to 1.5°C alive. 
A cause for optimism came in a new report from the Asia Green Grid Network, which detailed how the notion of a continental power grid spanning Japan to India is rapidly becoming cheaper and more feasible. Emerging technologies make it possible to connect grids via a network of under-sea cables, like those planned as part of the Sun Cable solar project (featured in last week's Signals of Change). The report authors call for coordination between governments and investment in green infrastructure to make the proposal a reality. 
The growth of renewables in the region includes a drive by European wind companies to capitalize on pledges by companies in Japan, South Korea and Taiwan to move to 100% renewable energy by 2050. National targets and pressure from US corporate clients are encouraging firms like Samsung to decarbonize their energy. In 2019, there were 5 GW of installed offshore wind in all of Asia compared with 19 GW in Europe, although the International Renewable Energy Agency (IRENA) projects that Asia's wind power will outstrip Europe's by the end of the decade. 
Europe's own renewed clean energy push was boosted by the announcement of a planned $50 billion, 20 GW green hydrogen plant in Kazakhstan. Svevind Energy Group, the company behind Europe's largest wind farm in Sweden, signed an agreement with Kazakhstan's government to build what is expected to be one of the world's largest green hydrogen facilities. 
Lastly to the UK, which saw yet another change of Prime Minister this week. With the ban on fracking reinstated immediately, landowners are also calling for plans to ban solar energy from farmland to be scrapped. Members of the Country Land and Business Association, which represents 33,000 landowners said that installing solar on their less productive land allowed them to subsidize food production.
 
Transport 
The past week saw more positive moves in the electric vehicle (EV) market with announcements from several major players. Korea's largest car maker Hyundai began work on its $5.5 billion EV and battery plant in the US, which after going operational in 2024 could produce as many as 500,000 EVs annually. The news comes as EU and Korean auto manufacturers continue to seek assurances that non-US automakers won't be disadvantaged by the Inflation Reduction Act's stipulation that EVs must be assembled in North America to receive tax credits. 
In China, Farizon – the new energy vehicle subsidiary of automaker Geely – raised a further $300 million in funding, to support the holding group's aim to increase the proportion of electric vehicles in its total sales to 50% in 2023.  
To Europe, where German manufacturer Volkswagen confirmed that it will produce only EVs by 2033 – an increase in ambition from the company's previous target. Standardizing battery chemistry and concentrating on a single model per factory were other measures announced, both of which aim to support the company's aim to produce an entry-level electric vehicle for €25,000 or under. 
And in EV charging infrastructure news, Tesla has made it possible for US owners to vote for where their new locations for Supercharger installations should be. Superchargers allow up to 200 miles additional charge in just 15 minutes, and it's hoped the new location selection system will help to close gaps in charging infrastructure in more remote areas. The news comes in the same week that BMW and National Parks UK agreed a deal to install EV chargers in the UK's 15 national parks. With 100 million visits to the parks each year – most by car – it's hoped that the move will decrease visitor emissions and have positive effects for biodiversity and local communities. 
Land and Nature  
With the UN's Biodiversity COP coming up in December, coordinated calls from businesses for stronger environmental policy are ramping up. Over 300 companies including Nestlé, Unilever and Salesforce have published an open letter urging world leaders to make it mandatory for companies to assess and reveal their impact on nature by 2030. The companies, based in countries from Canada to China, pledge to make voluntary nature disclosures, but call for a binding agreement to ensure all businesses must do the same.  
The fashion industry is also making its voice heard, with 500 brands now signed up to the CanopyStyle pledge to remove deforestation from supply chains. The coordinators of the project, begun in 2013, said a rapid spike in demand for forest-derived fabrics posed a threat to rare and ancient forests, of which only 20% now remain intact. Since its foundation, CanopyStyle says it has managed to shift almost half of fashion-related viscose production towards production at low risk of originating from ancient and endangered forests. 
To the food system, where the Good Food Finance Network – made up of eleven international firms including Netherlands-based Rabobank and Mexico's FIRA – had its deforestation and agroforestry targets backed by the UNEP. The group's targets, which cover $113 billion in assets, aim to lock in carbon across agricultural land and increase investment in adaptation. 
Finally to the US, where new VC fund Propeller – launched by the founder of HubSpot – is to team up with one of the world's leading marine research institutes to invest exclusively in ocean technologies that can help solve the climate crisis. Rather than chasing unicorns, Silicon Valley's elusive billion-dollar startups, Propeller is pursuing what it terms "narwhals" — companies developing technologies like removing carbon from the ocean and decarbonizing shipping. 
Built Environment and Heavy Industry 
India's Tata Steel says its Dutch arm has reached an agreement with Ford to provide its plants with green steel. Ford stated that the agreement with Tata and similar Memorandums of Understanding (MoUs) on low-carbon steel with ThyssenKrupp and Salzgitter would help it meet a target of zero emissions in its European facilities, logistics and supply chain by 2035. 
There was further green steel progress in Europe, with the Sweden's H2 Green Steel securing $3.5 billion to build a new green hydrogen-powered steel plant. The company targets 5 million tons of green steel in annual production by 2030 that could reduce 95% of CO2 emissions compared with normal steelmaking processes. 
Staying with industrial green hydrogen, South Africa's Industrial Development Corporation and Saudi Arabia's ACWA Power partnered to explore green hydrogen infrastructure opportunities in the sub-Saharan African nation, with potential developments valued at $10 billion. Use in cement production is one area to be assessed, with the aim of helping South Africa meet its net zero by 2050 goal. 
The last word this week goes to the UK's Virgin Media O2, whose use of recycled stone and sand in its broadband expansion to 3,000 homes in Scotland resulted in a 50% reduction in the project's CO2 emissions. The move forms part of the company's target to achieve net zero carbon across its operations, products and supply chain by the end of 2040. 
Commitments 
1 company joined RE100: 
NGK Insulators LTD. – Japanese manufacturing company 
1 company joined EP100: 
Omron Corporation – Japanese technology company 
4 companies joined the SBTi through the science-based target pathway: 
ASUSTEK COMPUTER INC. – Taiwanese tech company 
BSP Pharmaceuticals spa – Italian pharmaceutical company 
Gattefossé SAS – French chemical company 
MMTC-PAMP India Private Limited – Indian trading company 
17 companies joined the SBTi through the Net Zero Standard pathway:  
BauMont Real Estate Capital – UK-based investment firm 
Calyx – US-based software company 
chutex international CO.,LTD. – Vietnamese textiles company 
Cleary Gottlieb Steen & Hamilton LLP – US-based law firm 
Envu – US-based chemical company 
Expanscience – French pharmaceutical company 
Gelal Socks Company- Cankiri Facility – Turkish clothing company 
Multiconsult ASA – Norwegian engineering consultancy 
Sia Partners – French consulting company 
Thai Beverage PLC – Thai alcohol company 
The Contact Company Limited – UK-based telecommunications company 
TRANSPORTES LOGISTICOS ESPECIALIZADOS – Mexican trucking company 
TSI HOLDINGS CO., LTD. – Japanese clothing company 
Valeo Foods – Irish food company 
VelocityEHS – US-based software company 
ViewSonic Corporation – US-based tech company 
XD Connects – Dutch retail company 
29 companies had their science-based targets approved:  
Califia Farms – US-based food and beverage company 
GUBI A/S – Danish design company 
Humlegården Fastigheter AB – Swedish property company 
May You Corporation – Japanese utility company 
Haiyan Dingsheng Machinery Co., Ltd – Chinese building product company 
SOGIRI Co., Ltd. – Japanese building product company 
Uncommon – UK-based coworking company 
Echosens SA – French healthcare provider 
FOCCHI SPA UNIPERSONALE – Italian building product company 
Plus Pack – Danish packaging company 
Maruyou Kensetu Co., Ltd. – Japanese construction company 
Pihl Holding A/S – Danish construction company 
Uni-technology A/S – Danish electronics company 
HOKUBEI SANGYO INC – Japanese home building company 
Palcut A/S – Danish paper manufacturer 
Orthex – Finnish consumer goods company 
Gulermak Steel Construction Ind. & Trade Co. Inc. – Turkish steel company 
Rizhao Cangyu – Chinese electrical equipment manufacturer 
PAMA MECANICA E FUNDIÇÃO LTDA – Brazilian steel company 
Newmont Corporation – US-based mining company 
KOBAYASHI PHARMACEUTICAL CO., LTD. – Japanese pharmaceutical company 
Lam Research Corporation – US-based semiconductor company 
WSP Global Inc. – Canadian consultancy 
Eddie Stobart Ltd – UK-based logistics company 
Groupe FNAC DARTY – French retail company 
Port of Rotterdam Authority – Dutch water transportation authority 
Georg Fischer AG – Swiss industrial transportation company 
ARGOS WITYU PARTNERS S.A. – Luxembourgish private equity firm 
Norron Asset Management – Swedish asset management company 
25 companies joined the SME Climate Hub 
Total number of companies committed to RE100: 387
Total number of companies committed to EP100: 124 
Total number of companies committed to EV100: 127 
Total number of companies committed to EV100+: 5 
Total number of companies committed to SBTi: 3,944 (2,059 committed, 1,885 approved) 
Total number of companies committed to SME Climate Hub: 5,160 
Webinars & Events
NYT Climate Forward: November 1-10 
WIRED Impact: November 2 (15% off with code: WMBC15)
COP27 Business Pavilion: November 8-18 
Climate Action COP27 Innovation Zone: November 7-18
COP15: December 5-17 
Coalition Jobs
Various posts at We Mean Business Coalition 
Various posts at BSR 
Various posts at CDP 
Various posts at Ceres 
Various posts at CLG Europe (CISL) 
Various posts at Climate Group 
Various posts at WBCSD 
Various posts at SBTi