Net zero transition – the latest signals of change (20.01.23)
We Mean Business Coalition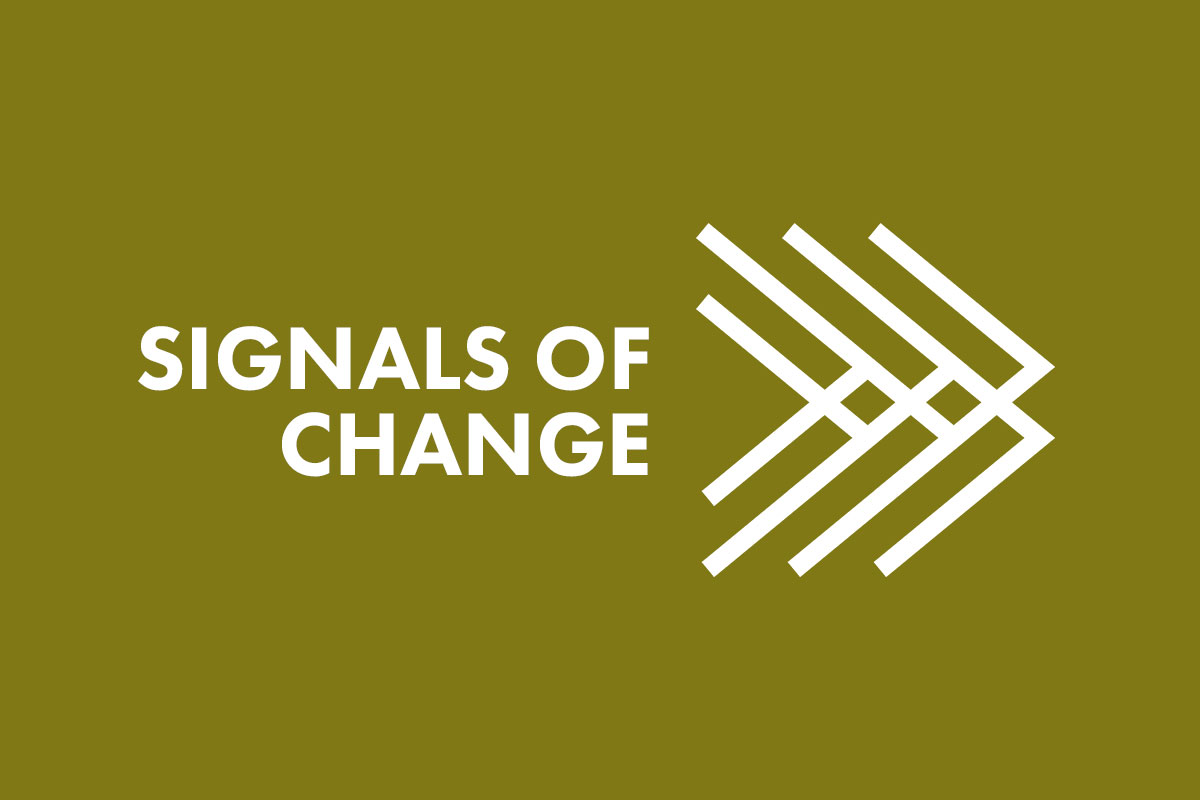 Here are the latest Signals of Change, demonstrating the transition to a resilient and inclusive net zero economy.

Net Zero Economy
In Davos, Switzerland this week, the World Economic Forum (WEF) launched a new global philanthropic initiative to help mobilize the estimated $3 trillion a year needed to deliver net zero emissions, reverse nature loss, and restore biodiversity by 2050. Supporting partners for the new initiative – named Giving to Amplify Earth Action – include Salesforce and the BMW Foundation, alongside the We Mean Business Coalition. 
Elsewhere at WEF's annual meeting, President of the EU Commission, Ursula von der Leyen revealed the bloc's plans for a Net Zero Industry Act to match the USA's Inflation Reduction Act of last year and "focus investment on strategic projects along the entire supply chain. We will especially look at how to simplify and fast-track permitting for new clean tech production sites," von der Leyen said. 
Other research launched at Davos highlighted three "super-tipping points" for climate action that could trigger a cascade of decarbonization across the global economy. The Breakthrough Effect report highlighted policy interventions on electric vehicles, plant-based alternatives to meat, and green fertilizers that would lead to unstoppable growth in those sectors.
A new report from the Cambridge Institute for Sustainability Leadership (CISL), in partnership with SME Climate Hub, BSR and We Mean Business Coalition, has highlighted the role of commercial banks and multi-national corporations in helping small and medium sized businesses (SMEs) reach net zero. The authors propose measures such as a shared emissions data repository between banks and SMEs, and an open marketplace for net zero transition services. 
Another report, from the International Energy Agency, has calculated that cleantech manufacturing will be worth around $650 billion by 2030, if countries hit their current climate pledges. The Energy Technology Perspectives 2023 report predicts a tripling in value of cleantech industries, which will support 14 million jobs globally by the end of the decade, up from six million today.  
And a new green finance solution was launched, with BNP Paribas and power management technology specialist Eaton announcing a joint venture to help European businesses deploy energy-saving technologies. The companies said that the new offer will provide businesses with access to a range of clean energy technologies and infrastructure solutions such as energy storage systems, uninterruptible power supplies, and electric vehicle (EV) charging infrastructure, to help slash soaring energy bills. The projects are funded through predictable fixed payments with no upfront cost. 
Energy 
In the first of several solar power announcements this week, Ethiopia has signed an agreement with UAE renewable energy company Masdar on the development of a 500 MW solar project. The plans are for two new solar photovoltaic plants, which Prime Minister Abiy Ahmed said were an opportunity for Ethiopia "to harness our renewable resources and ensure access to abundant, clean and affordable energy." Masdar also signed a $2 billion solar deal with Zambia this week. 
To China, where Longi Green Energy Technology has signed a letter of intent with Shaanxi Province to build the world's largest solar manufacturing base. The project, in which Longi plans to invest $6.7 billion, will effectively double the company's existing output, and is expected to be operational by 2024. Longi currently produces around 105 GW of solar wafer capacity, and 35 GW of solar cell capacity per year. 
In Australia, AC Energy – a unit of the Philippines' Ayala Corporation – has partnered with PCL Construction to build a new 520 MW solar farm. When complete, the $551 million project – the company's second large-scale solar facility in the country – will produce enough electricity to power 185,000 average Australian homes. 
And in the UK, energy utility National Grid has celebrated the successful completion of a ten-week pilot project to test a green hydrogen-powered backup generator, which could be used to replace diesel models. The purpose of the trial was to test the capabilities and feasibility of hydrogen power units as direct replacements for backup diesel generators, which are currently used across 250 National Grid sites. Switching the diesel to green hydrogen has the potential to reduce carbon intensity by 90% and save more than 500,000 kg of carbon emissions. 
Transport 
First to China, where automaker Geely Holding Group has announced strong growth in 2022 across its new energy vehicle models, with sales doubling to over 675,000 units across the group. Its subsidiary Volvo Cars had a particularly successful year, with EVs rising to almost 11% of its total sales.  
Meanwhile, car rental company Hertz inked a new deal with Uber to provide 25,000 EVs to the company's European fleets. The partnership will make Tesla and Polestar vehicles available to Uber drivers in London from this month, with the roll-out continuing in other major cities like Paris and Amsterdam. "Expanding our partnership with Hertz into Europe will significantly boost our transition to zero emissions, helping drivers reduce running costs and cleaning up urban transport," said Uber CEO Dara Khosrowshahi. 
There was more clean transport news from India, where the Mahindra Group announced its new all-electric SUV at a price of less than $20,000, available from this month. This follows growing recent interest in EV models in India from other major automakers including BMW, BYD and Mercedes. 
In the UK, supermarket chain Sainsbury's has reported a successful trial of a hydrogen-powered heavy goods vehicle over a three-month period that's estimated to have saved 314 kg of CO2 per day. The trial was conducted by EV maker Electra and Sainsbury's as part of the government-funded Road to Hydrogen project exploring the potential to establish a Multi-Model Transport Hydrogen Hub.  
Zero-emissions road travel in the UK received a further boost with the conclusion of another trial – this time a multi-million-pound test run of EVs by Centrica, Royal Mail and Uber to assess current infrastructure for a range of business fleet needs. The trial concluded that EV technologies have improved to the extent that there are now models available to suit various types of fleets, while range anxiety relating to the capability of the vehicles was not seen as a problem. 
Land and Nature 
Denmark's Ørsted has partnered with The Nature Conservancy (TNC) to protect almost 1,000 acres of native prairie in Texas, USA. Ørsted is developing the 471 MW Mockingbird Solar Center in the state and will donate a portion of the land to TNC to manage, preserving the habitat from future development. Prairies are valuable, productive ecosystems that provide numerous benefits, from flood prevention and water filtration to carbon storage.  
Danone has shared its plans to cut methane emissions from its fresh milk supply chain by 30% by 2030 by working with farmers, other companies and governments on regenerative practices. The dairy company said it will launch four new initiatives this year for methane reduction in Africa, Europe and the US, aimed at removing 1.2 million tons of CO2 equivalent of methane emissions. 
Elsewhere, Bloomberg reports companies including Bayer, Corteva and Archer-Daniels-Midland are closing in on some solutions to reduce the use of conventional fertilizers, including turning to microbes, recycled organic waste and other lower-emission and chemical-free substitutes. Norway's Yara International also plans to start making fertilizer using hydropower to cut emissions by 90% versus products made with gas. Venture capitalists injected $10.5 billion into agriculture-tech in 2021, a 58% increase from 2020. 
And supermarket Tesco announced this week that it is looking to work with UK suppliers to boost fava bean production, as part of the retailer's efforts to deliver on its environmental goals. Tesco claims that fava beans could help promote healthy soils and cut emissions by locking in soil carbon and replacing some of the soy used in animal feed. The company is also trialing using fava beans in pig feed as an alternative to soy, demand for which has been blamed for driving deforestation. 
Built Environment and Heavy Industry 
Back to Davos, where the first signatories to WEF's Green Building Principles have been announced. The eight businesses include JLL, Signify and Schneider Electric. The Principles require signatories to target net zero carbon emissions by 2050 at the latest and to set an interim target to at least halve their emissions by 2030. JLL's CEO and President Christian Ulbrich said that "getting started is often the hardest part, and the Principles offer a simple set of steps to do so." 
Further ambition was shown in a new deal between ResponsibleSteel and the Sustainable Steel Principles Association to support banks to assess the decarbonization progress of steel companies in their portfolios. Decarbonizing steel is critical to global climate goals, with the energy-intensive sector estimated to be responsible for roughly 7% of the world's carbon emissions. 
In Brazil, chemical maker Unigel announced investment of up to $1.5 billion to produce green hydrogen, making it the first company in the country to do so on an industrial scale. The plant should achieve production of 100,000 tons of green hydrogen by 2027, obtained from the conversion of wind or solar energy.  
UK ministers have been urged in a new report by the influential Aldersgate Group of companies to boost the energy efficiency of homes and reduce their energy consumption by 15% by 2035. Group members including CBRE, IKEA and the John Lewis Partnership stated that the private sector is "ready to play its role in delivering a low-carbon and energy-efficient built environment." The report recommends a zero rate of VAT on all energy efficiency products, changes to Stamp Duty to incentivize people to improve their home energy efficiency when moving property, and widespread upskilling in the sector. 
Finally, US steel recycler Schnitzer Steel has been named as this year's most sustainable company. Each year, Canadian research firm Corporate Knights creates the Global 100, an index of what it deems to be the world's 100 greenest firms. Schnitzer beat almost 7,000 other companies, including second placed Vestas Wind Systems and third placed Brambles in assessments of its revenue from sustainable operations, carbon productivity, and workforce diversity.  
Commitments 
38 companies committed to set science-based emissions reduction targets: 
Acuity Brands – US-based electrical equipment company 
API Restauration – French hospitality company 
BAMA Foods AB – Swedish food company 
BURGO GROUP – Italian paper company 
Ciena Corporation – US-based telecoms company 
CT Engineering Group – Spanish engineering company 
Danske Bank – Danish bank 
delfortgroup AG – Austrian paper company 
Dolby Laboratories, Inc. – US-based tech company 
Equiniti Group Limited – UK-based fintech company 
Farmax – Brazilian cosmetics manufacturer 
Fiba Yenilenebilir Enerji Holding A.S. – Turkish energy utility 
heristo aktiengesellschaft – German food producer 
i engineering Group – Mauritian telecoms company 
ILJIN CO.,LTD – South Korean auto parts manufacturer 
ILJIN Global – South Korean auto parts manufacturer 
INFRA Group – Belgian construction company 
Inside Ideas Group Ltd – UK-based media company 
INVIVO GROUP – French food producer 
Kay & Emms (Pvt) Ltd – Pakistani garment manufacturer 
Lianhe Chemical Technology(Taizhou) Co.,Ltd. – Chinese chemical company 
LTS Lohmann Therapie-Systeme AG – German pharmaceutical company 
Mäder Group – French chemical company 
OIA Global – US-based air freight company 
Orifarm Group A/S – Danish pharmaceutical company 
Peco Foods, Inc. – US-based poultry company 
Robert Half – US-based recruiter 
SCHRÉDER SA – Belgian lighting company 
Serco Group Plc – UK-based defense services company 
Skipton Building Society – UK-based financial institution 
Sterlite Technologies – Indian telecoms company 
Systemair AB – Swedish ventilation company 
Toyota Industries Corporation – Japanese industrial manufacturer 
Türk Traktör ve Ziraat Makineleri A.S. – Turkish farming equipment manufacturer 
VAN ELLE HOLDINGS PLC – UK-based engineering company 
Vitalink Group – Chinese electrical equipment manufacturer 
WJ Group Ltd – UK-based construction company 
YETI Holdings, Inc. – US-based consumer products company 
20 companies had their science-based targets approved: 
80 Acres Urban Agriculture, Inc – US-based food producer 
Accent Equity AB – Swedish private equity company 
Astellas Pharma Inc. – Japanese pharmaceutical company 
Beautycounter – US-based cosmetics company 
BuildingLink.com LLC – US-based software company 
Crest Nicholson plc – UK-based property developer 
Digital Edge (Singapore) Holdings Pte. Ltd. – Singaporean telecoms company 
ENERLIS – French construction company 
Grolman Group – German chemical company 
Hang Lung Properties Ltd. – Hong Kong-based property developer 
Inglewood Co., Ltd. – Japanese software company 
Kaneyoshi Corporation – Japanese ground transportation company 
Kvadrat A/S – Danish textile company 
Lenovo – Chinese hardware company 
Mannion Daniels Limited – UK-based professional services company 
McKesson Corporation – US-based pharmaceutical company 
MICROplásticos S.A. – Portuguese plastic manufacturer 
Orbia Advance Corporation S.A.B. – Mexican chemical company 
Red-Inc ltd – UK-based office supplier 
Thompson Cole Ltd – UK-based surveyors 
Total number of companies committed to EP100: 126 
Total number of companies committed to EV100: 127 
Total number of companies committed to RE100: 397 
Total number of companies committed to SBTi: 4,469 (2,270 committed, 2,199 approved) 
Total number of companies committed to SME Climate Hub: 5,390 
Total number of companies committed to The Climate Pledge: 380 
Webinars & Events 
CLG Europe: Lessons from a crisis – How to achieve a climate neutral, energy secure and prosperous transition for Europe and the business sector: January 25 
ENGAGE 2023: The Sustainability Reporting and Communications Sessions: January 25 
Coalition Jobs 
Assistant, Operations at WMBC 
Various posts at BSR 
Various posts at CDP 
Various posts at Ceres 
Various posts at CLG Europe (CISL) 
Various posts at Climate Group 
Various posts at WBCSD 
Various posts at SBTi