Net zero transition – the latest signals of change (27.01.23)
We Mean Business Coalition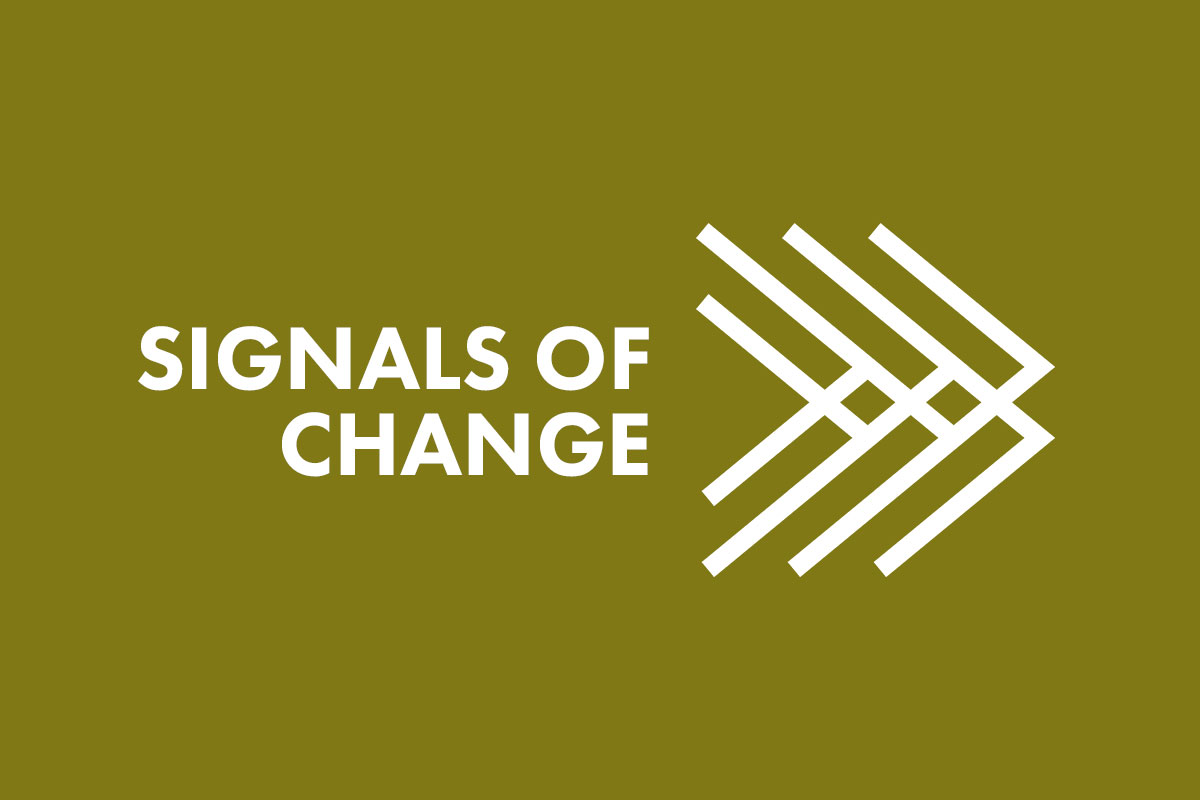 Here are the latest Signals of Change, demonstrating the transition to a resilient and inclusive net zero economy.

Net Zero Economy 
A new report, Bloomberg NEF's Energy Transition Investment Trends 2023, reveals that global investment in the clean energy transition hit $1 trillion last year, pulling level with fossil fuel investments for the first time. While the amount is a 31% jump from 2021, the report estimates that annual investments in the transition must triple for the rest of this decade if the world is to reach net zero emissions by 2050. 
Insurance group Aviva is expanding its work in green commodity insurance, including offshore windfarms and sustainable construction. The group, which stopped insuring fossil fuel projects four years ago, had previously ramped up its push into onshore wind, solar, batteries and electric vehicle (EV) infrastructure. Now Aviva is adding offshore wind and 'hybrid' building projects – which use more sustainable materials such as engineered timber, a building method avoided by insurers in the past. 
Aviva Investors, meanwhile, published its annual Real Assets Study, revealing that 90% of investors now consider sustainability factors when investing in real assets. The asset managers surveyed 500 global institutional investors representing over $3.5 trillion. This comes as CDP's annual Non-Disclosure Campaign Results Report showed that companies engaged by CDP signatories, with the backing of a group of other financial institutions, were 2.3 times more likely to disclose their environmental impacts. 
Chinese computer manufacturer Lenovo is the latest company to have its net zero targets validated by the Science-Based Targets initiative's Net Zero Standard. The company aims to reduce its scope one and two emissions by 50% by 2030, and its scope three emissions by 25%. This will put it on track for a 90% reduction across all scopes by 2050. Lenovo's chairman Yuanqing Yang said, "In the fight against climate change, we believe collaboration and accountability are the two critical elements needed for collective success." 
Energy 
In South Africa, EDF Renewables has finalized plans for a new 140 MW wind farm. Construction began after the project partners secured funding of over $200 million. The facility is the third that EDF has agreed under power purchase agreements with the South African government in recent months. 
A new report has revealed which US corporations led the renewable energy transition in 2022. Released by the American Clean Power Association, the report names Alphabet, Amazon and Meta as the top three corporate purchasers of wind and solar energy, with tech companies accounting for almost half of the total amount of energy procured. In total, 326 companies contracted 77 GW of renewables by the end of 2022 – enough to power over a thousand data centers or 18 million homes, with Texas benefiting more than any other state. 
In the UK, the Crown Estate has signed leases with the developers of six new offshore wind farms. The projects will have a combined capacity of 8 GW and provide enough electricity to serve seven million homes. Collectively, the businesses developing the wind farms have committed around £1 billion per year to them. The move follows the UK government's decision last year to increase the country's offshore wind capacity target for 2030 to 50 GW. 
Meanwhile, the UK government has been warned by the chief executive of SSE that it needs to move faster on scaling up low carbon infrastructure. "It can take more than a decade to deliver a wind farm currently — that's far too long," said Alistair Phillips-Davies. The comments come as SSE unveils plans for a 21 megawatt peak solar farm in Wexford, Ireland's 'sunniest county'. 
And in Bosnia, a dairy farm has become an energy innovation leader by turning biogas from farm waste into electricity. It's able to produce more electricity in an hour than the average household consumes in a month, while the thermal energy created during the fermentation of the biogas is also used to heat some farm buildings. 
Transport 
Bloomberg has forecast that the auto sector could potentially borrow about $28 billion in green bonds globally this year, doubling the amount raised last year. Volkswagen, Ford and General Motors were among the ten largest issuers of green bonds from the sector in 2022. Automakers are also tapping debt markets to finance cuts in CO2 emissions and the transition to EVs.
Japanese carmaker Honda has announced the creation of a new division to accelerate its development of EVs. The new department will consolidate the automaker's electrification strategy and development of automobiles, motorcycles and power products such as generators, to help Honda meet its target of producing two million EVs a year by 2030. 
In Spain, the country's biggest manufacturers' lobby, ANFAC, has advocated for an overhaul of the industry to speed up its electrification. In 2022, EVs accounted for just 9% of total sales in the country, while the EU average is over 20%. The lobby group has recommended revamping subsidies for EV buyers and setting binding targets for the deployment of charging infrastructure. 
In China, the CEO of CMA CGM China, part of the French shipping giant CMA CGM Group, has proposed using captured CO2 to make low-carbon transport fuels. The group created a €1.5 billion fund last year to invest in fuel decarbonization technology ventures and scale up production of green fuels, in its bid to reach net zero by 2050. CMA CGM is exploring fuels made using CO2 from the nation's factories, combined with green hydrogen. 
Land and Nature 
Canadian financial services group Manulife has partnered with WEF on two new forestry initiatives. The Sustainable Forest Economy Challenge and the subsequent Forests and Trees Improving Human Health and Wellbeing Challenge are competitions open to 'ecopreneurs' with innovative solutions to safeguard nature, climate, livelihoods and the wellbeing of people. The launch follows Manulife's pledge last year to join WEF's Trillion Trees initiative. 
In Albania, clothing company Patagonia has demonstrated its commitment to nature beyond its value chain, publishing a roadmap to protect the country's Vjosa River by turning it into a national park. The project consortium also includes the Albanian government and the International Union for Conservation of Nature. If approved, phase one of the initiative would begin in Spring.  
A number of funders have signaled increasing interest in agri-tech solutions by investing in Australian Rumin8, which plans to disrupt the methane-emitting animal agriculture industry with a lab-grown feed additive. The company is developing a supplement for livestock made from synthetically replicated bromoform, an ingredient found in red seaweed. Microsoft founder Bill Gates has come on board as an investor, alongside Amazon's Jeff Bezos and Alibaba's Jack Ma. 
Ghana has become the second country in Africa to receive payments from a World Bank trust fund for reducing emissions from deforestation and forest degradation (REDD+). As part of the country's Emission Reductions Payment Agreement, Ghana is eligible to receive up to $50 million for 10 million tons of CO2 emissions reduced by the end of 2024. Ghana's Cocoa Board is participating in the REDD+ process, as are World Cocoa Foundation members including Mondelēz International. 
And a new report by Green Alliance argues that supporting farmers to manage land as carbon sinks offers a far cheaper route to net zero in the UK than carbon capture technologies. Paying or incentivizing farmers to plant new woodlands, restore peatlands, and create other forms of nature-based carbon sinks on around 10% of the country's least productive farmland would be hundreds of billions of pounds cheaper than relying heavily on carbon capture. 
Built Environment and Heavy Industry 
Swiss cement company Holcim has been announced as the recipient of EU funding for two new decarbonization projects. The grants, totaling €328 million, will accelerate the development of the company's breakthrough carbon capture utilization and storage (CCUS) projects in Germany and Poland. Holcim aims to operate 50 CCUS projects worldwide by 2050 as part of its net zero strategy. 
As the UAE prepares to host COP28 this year, Abu Dhabi's Masdar is branching out into green hydrogen to help the country to decarbonize industries such as steel, aluminum and cement. By 2030, the company plans to be producing one million tons of green hydrogen per year, and has announced a number of early-stage projects, including a partnership with Fertiglobe and Engie to build a 200 MW green hydrogen plant in the UAE. 
British Steel and Tata Steel are expected to receive around £300 million in government grants to support their transitions towards green steelmaking. The most likely option for the two UK plants would be to switch to electric arc furnaces that could recycle the large amount of scrap steel the UK produces, and could be powered by electricity from renewable sources. The government support, which would protect jobs in the UK's industrial heartlands, is understood to be conditional on the companies committing to investing in the plants themselves. 
Japan's Metal One and the USA's Clean Energy Systems have signed an agreement to accelerate the decarbonization of steel manufacturing plants through carbon capture technology. The companies will also work to reduce carbon emissions at source and promote green steel for use in a variety of industries, including construction, shipbuilding and energy facilities. 
And the largest US steel producer – Nucor – has launched a new sustainable steel plate especially for the offshore wind industry. Named 'Elcyon', the product is the world's first steel plate for offshore wind applications made using electric arc furnace technology, with a recycled content in excess of 90% and greenhouse gas emissions one fifth of the global blast furnace average. Last year Nucor was the first major industrial company to join the UN's 24/7 Carbon-Free Energy Global Compact, aimed at accelerating the decarbonization of the world's electricity systems. 
Company Commitments 
30 companies committed to setting science-based emissions reduction targets: 
Arc Legal Group – UK-based insurance company 
Bharat Forge – Indian metal company 
deSter – Belgian packaging company 
Devoteam – French digital consultancy 
Futurice Oy – Finnish tech company 
Golden State Foods – US-based food company 
Leviat Limited – UK-based construction company 
MEC Mountain Equipment Company – Canadian retail company 
Mercadona – Spanish supermarket 
Molnlycke Health Care – Swedish healthcare company 
Moose Toys – Australian toy company 
Musgrave Group – Irish food wholesaler 
MYOPLA – Moroccan telecoms company 
OTTO FUCHS – German auto component manufacturer 
Parsons – US-based defense company 
PennEngineering – US-based engineering company 
RINA S.p.A. – Italian shipping company 
SAICA GROUP – Spanish packaging company 
Sportler S.p.a. – Italian retailer 
Stena Aluminium AB – Swedish metal recycling company 
UPDATER SERVICES LIMITED – Indian business services company 
Wolters Kluwer N.V. – Dutch software company 
Aarti Industries – Indian chemical company 
Andera Partners – French asset management firm 
CAP HOLDING SpA – Italian water utility 
Hamilton Bonaduz AG & Hamilton Medical AG – Swiss healthcare company 
Leeson Claims Services Ltd – Irish insurance company 
SBAB – Swedish bank 
Şekerbank T.A.Ş. – Turkish bank 
WAREMA Renkhoff SE – German building products company 
22 companies had their science-based targets approved: 
ABF Data Systems dba Direct Systems Support – US-based tech company 
AmerisourceBergen Corporation – US-based healthcare company 
Apoteket AB – Swedish retail company 
Bonnier News – Swedish media company 
C&C Group plc – Irish food company 
Canada Post | Postes Canada – Canadian logistics company 
Danone – French food company 
Edelmann Group – German packaging company 
Freshfields Bruckhaus Deringer – UK-based law firm 
Gaysha Limited – UK-based construction company 
Mannheimer Swartling – Swedish law firm 
Mori Building Co., Ltd. – Japanese real estate company 
Paragon Films, Inc. – US-based packaging company 
Penta-Ocean Construction CO., LTD – Japanese construction company 
Probi – Swedish pharmaceutical company 
Rémy Cointreau – French alcohol group 
Riksbyggen Ekonomisk Förening – Swedish real estate company 
Sonepar – French electrical equipment manufacturer 
Spendrups Bryggeri AB – Swedish alcohol company 
Temenos AG – Swiss fintech company 
US Foods Holding Corp. – US-based food company 
VVM De Lijn – Belgian transportation company 
Total number of companies committed to RE100: 397 
Total number of companies committed to EP100: 126 
Total number of companies committed to EV100: 127 
Total number of companies committed to SBTi: 4,502 (2,284 committed, 2,218 approved) 
Total number of companies committed to SME Climate Hub: 5,390 
Total number of companies committed to The Climate Pledge: 380 
Webinars & Events 
A Deep Dive into the SBTi Maritime Guidance: January 31 
Ceres – Addressing Risks to Farmers and Farmworkers in Climate Transition Plans: January 31 
WBCSD – Net-zero buildings: Halving construction emissions now – Report Launch: January 31 
CLG Europe – Building a Circular and Climate Neutral Economy: Reaction to the November Circular Economy Package: February 1 
BSR – Climate Fit: Supporting Supply Chain SMEs in Climate Action: February 2
Coalition Jobs 
Assistant, Operations at WMBC 
Various posts at BSR 
Various posts at CDP 
Various posts at Ceres 
Various posts at CLG Europe (CISL) 
Various posts at Climate Group 
Various posts at WBCSD 
Various posts at SBTi