We Mean Business and WBCSD to expand the reach of below50
We Mean Business coalition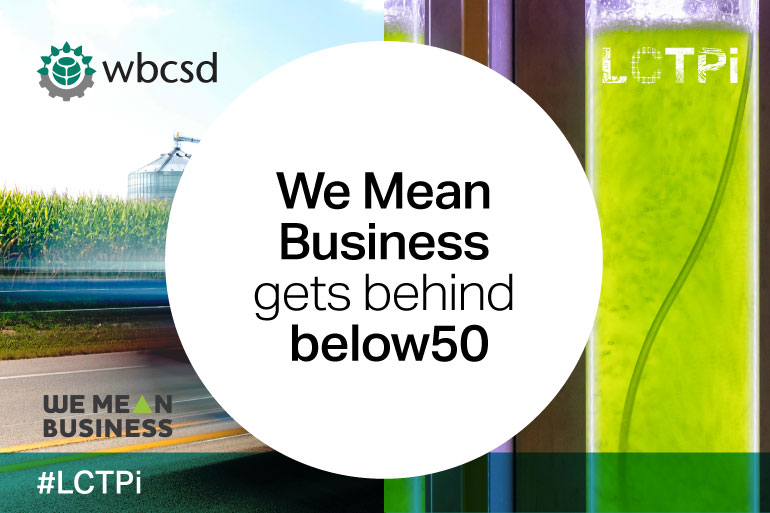 The We Mean Business coalition (WMB) and the World Business Council for Sustainable Development (WBCSD) have announced a new partnership to expand the reach and uptake of WBCSD's below50 work. Through the partnership, below50 will become a key initiative for companies and investors committing to climate action through the We Mean Business Take Action Campaign.
below50 is a key outcome of WBCSD's Low Carbon Technology Partnerships initiative (LCTPi), in which over 160 companies and 70 partners continue working together to speed the transition to a net zero emissions economy. Taken together, the scope of the LCTPi working groups targets 65% of the emissions reductions needed for achieving the below 2°C objective.
below50 represents an important element of the LCTPi work, providing companies and organizations working in transport and logistics with a platform to get involved with climate-action directly. It's a ground-breaking initiative that brings forward-thinking businesses together to promote the best-of-breed of sustainable fuels that can achieve significant carbon reductions, and scale up their development and use.
Any company that produces, uses or invests in fuels that are at least 50% less carbon intensive than conventional fossil fuels can join.
Five of the world's biggest investors in low-carbon fuels joined the below50 project last year, bringing membership up to nearly 25 companies, each committed to transitioning to a low-carbon world.
The new partnership with We Mean Business delivers a strong vote of confidence in below50's impact potential for increasing the use of sustainable fuels, and in its ability to help companies get more actively involved in decarbonizing transport.
We Mean Business also sees below50 as an important lever in reaching their overarching goal of "strengthening and accelerating mainstream business' transition to a just, low-carbon global economy."
Nigel Topping, CEO of We Mean Business said, "Working with WBCSD on below50 will be an excellent opportunity to get more companies involved in the low-carbon transition. We see this work as a key element in decarbonizing transport – which will be critical for addressing climate change. Companies are interested, and we see impressive potential for positive impact."
For WBCSD, education and advocacy are two key elements of below50 and We Mean Business has the potential to assist on both fronts. Ideally, the new partnership will help expand below50's reach and influence to ensure continued momentum towards the low-carbon transport system.
"We will not be able to achieve the Paris Agreement or remain under the 2°C objective without decarbonizing transport," Peter Bakker, President and CEO at WBCSD said. "Our work on low-carbon fuels is a critical element, and by working with more companies through the We Mean Business platform, below50 will be even more effective in speeding the transition."
For more information, please contact:
Felicity Glennie-Holmes
WBCSD Communications
[email protected]
+41 22 839 3110
WBCSD is a global, CEO-led organization of over 200 leading businesses working together to accelerate the transition to a sustainable world. We help make our member companies more successful and sustainable by focusing on the maximum positive impact for shareholders, the environment and societies.