Net-zero transition – latest signals of change (27.05.22)
We Mean Business Coalition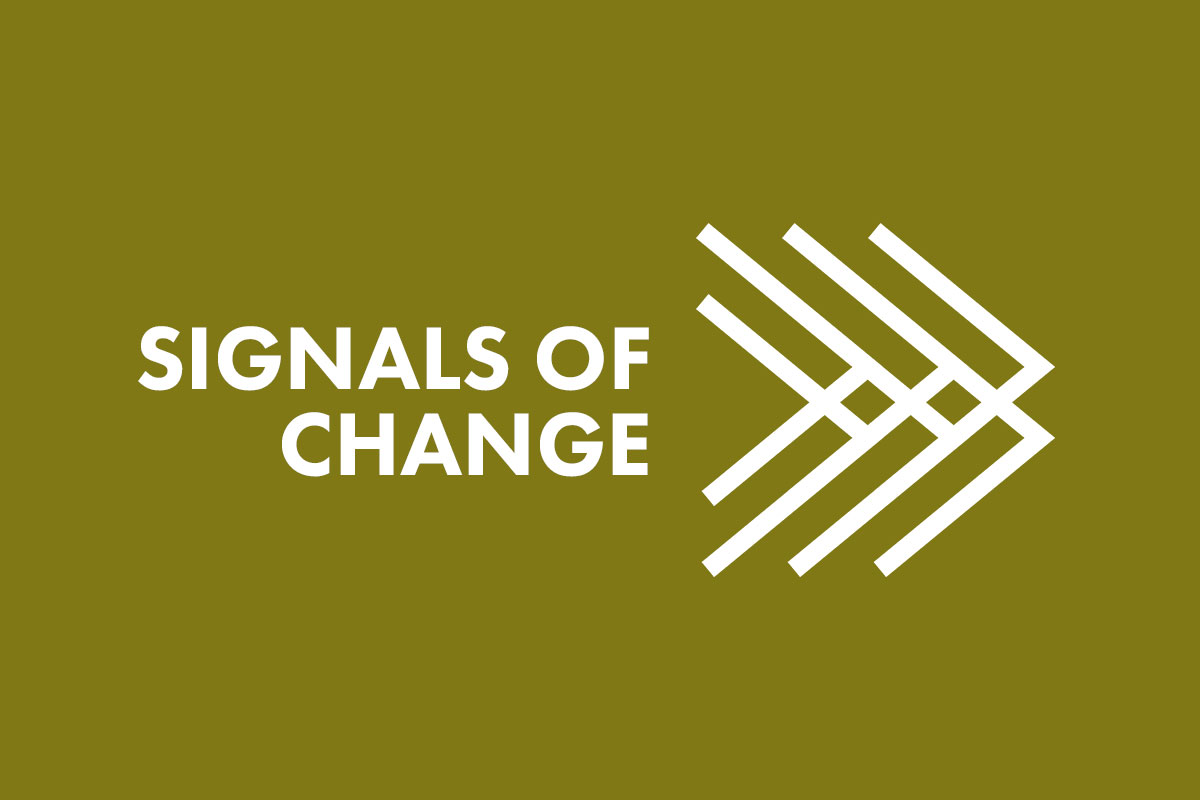 Here are just some of the signals of change from the past week, demonstrating the transition to a resilient and inclusive net-zero economy.
Net-Zero Economy   
First to Davos, where US climate envoy John Kerry announced that the number of companies in the First Movers Coalition has swelled from 35 to 55. Major corporations such as FedEx and Ford Motor Company joined the ranks of companies using their purchasing power to spur investment in nascent solutions such as green hydrogen and fossil-free steel.
New research from Deloitte – launched at Davos – puts a price of $178 trillion USD on climate inaction, if the world stays on its current warming trajectory. Conversely, action to hit net zero by 2050 could add $43 trillion to the global economy over the same period.
And Deloitte isn't alone in counting the cost of climate change. The Bank of England has conducted climate stress tests on the seven largest UK lenders. This prompted a warning that UK banks and insurers will end up shouldering nearly £340bn of climate related losses by 2050 unless action is taken now to curb emissions. The UK Pensions has also emphasized that UK pension schemes must not ignore risks from climate change.
Scientists this week published research indicating that by cutting methane and other 'short-lived climate pollutants' (SLCPs) such as soot, the world could reduce the global heating effect in the near-term alongside longer-term cuts in CO2 emissions.
Energy 
Back to Davos, where International Energy Agency chief Fatih Birol warned that the energy security crisis sparked by the war in Ukraine must not lead to a deeper dependence on fossil fuels. Instead, he urged investment into renewable energy solutions and called on producer countries to export excess capacity.
Renewable energy is hitting new milestones in Germany where for the first time, offshore wind energy has been used to stabilise the country's electricity system in case of grid fluctuations. The offshore wind farm Riffgrund – operated by Ørsted – will act as a secondary reserve for the grid, meaning that wind power is now just as reliable as power from conventional plants.
Meanwhile, the UK Government has launched a £160m funding programme to enable it to reach its goal to deliver up to 5GW of floating offshore wind capacity in the UK by 2030. The Floating Offshore Wind Manufacturing Investment Scheme (FLOWMIS) will boost capacity by supporting manufacturing and encouraging private investment.
Transport      
According to a new report, in most US states an electric car is now cheaper on a monthly basis than a comparable gasoline car. The analysis looked at variables including financing costs, state taxes and fees, tax credits, and fuel, maintenance and insurance costs.
Meanwhile in Germany, millions of people are expected to take advantage of a government initiative to boost public transport use and soften the blow of the cost-of-living crisis. From 1 June, a €9-a-month ticket scheme will be available on all modes of city and regional transport – available up until the end of August.
Plans are in motion to make the Dover to Calais ferry route into the world's first zero-carbon shipping corridor through investment in battery powered ships. A declaration of intent signed by three ports and ferry operators P&O, DFDS, and Irish Ferries was put to the UK government on Monday. The move is in line with one of the key COP26 commitments to 'support the establishment of at least six green maritime corridors by 2025'.
Staying with shipping, the UK government has announced a further £12million of funding to support the development of green maritime technologies, such as zero emission ferries and low carbon shipping fuels. And the International Maritime Organization has broken a decade-long deadlock on how to put a carbon price on shipping emissions in a move welcomed by campaigners. Among the market-based decarbonization measures now on the table are a fuel standard and a global carbon tax for the industry.
Land and Nature 
At Davos, the Taskforce on Nature-related Financial Disclosures (TNFD) announced a series of initiatives to increase engagement with indigenous peoples, local communities and other stakeholders. Building on the success of the Taskforce on Climate-related Financial Disclosures (TCFD), the TNFD aims to shift financial flows away from nature negative outcomes to nature positive ones, with final recommendations due in September 2023.
Also newly launched at Davos is the Global Commission on the Economics of Water. Focused on water security, the group will offer advice on water management worldwide with analysis from an all-star team of scientists, economists, community leaders and policymakers. Interim results are expected to coincide with the UN's 2023 Water Conference in New York next March.
In Abidjan, the COP15 summit on desertification and its impacts closed with commitments by 196 countries to restore one billion hectares of degraded land between now and 2030. Countries also agreed to enhance drought preparedness, response and resilience.
Five major nature recovery schemes are being launched across England to tackle wildlife loss and climate change. Covering 99,200 hectares of land, the five projects will share £2.4 million from the UK's Department for Environment, Food and Rural Affairs (Defra).
Built Environment and Heavy Industry   
The Geneva-based International Electrotechnical Commission (IEC) has voted in favour of an update to a household appliance safety standard which may lead to a dramatic reduction in greenhouse gas emissions. The move would allow appliance manufacturers to use hydrocarbon refrigerants for heat pumps and air conditioning units, which have a negligible climate impact when compared with hydrofluorocarbons (HFCs) used today.
In a boost to green steel, Volvo has announced that its heavy electric trucks will soon include 'fossil-fuel' steel made with green hydrogen as part of the firm's plans to slash the carbon footprint of its zero-emissions vehicle range.
A group of six African countries have launched the Africa Green Hydrogen Alliance to advance the development of green hydrogen through public and regulatory policy, capacity building, financing and certification. Founding members include Kenya, South Africa, Namibia, Egypt, Morocco and Mauritania. The initiative could provide clean energy, green jobs, domestic wealth creation and improved air quality across the continent.

Commitments:  
1 company joined EP100: 
Grab – Southeast Asian technology company

17 companies joined the SBTi through the science-based target pathway:
Acer Inc. – Taiwanese hardware and electronics corporation
AIB Group Plc – Irish banking services alliance
BioNTech SE – German biotechnology company
Bouygues Telecom – French internet service provider
DARFON Electronics Corp. – Taiwanese keyboard and tech component manufacturer
Frasers Property Development Services (Vietnam) Co., LTD. – Vietnamese real estate and property management company
G4S UK – UK-based security services provider
Guala Closures S.P.A. – Italian manufacturer of special closures for wine and spirits
hummel A/S – Danish sportswear manufacturer
International Automotive Components Group, S.A. – Luxembourgish automotive components supplier
Kraiburg Austria – Austrian rubber processor
LPP S.A. – Polish clothing company
Plastipak – American packaging and recycling company
RONAL AG – Swiss wheel manufacturer
SECIL – Companhia Geral de Cal e Cimento, SA – Portuguese cement company
Sigma Alimentos, S. A. de C. V. – Mexican food processing and distributing company
Sonova Holding AG – Swiss hearing care solutions company
15 companies joined the SBTi through the Net Zero Standard commitment pathway: 
BCB Group – UK-based advertising agency
BekaertDeslee – Belgian textile company
Broadridge Financial Solutions, Inc. – American fintech company
Cargojet Airways Ltd. – Canadian cargo services provider
CIMPOR-Indústria de Cimentos, SA – Portuguese cement corporation
Home Product Center Public Company Limited – Thai home improvement company
Kid ASA – Norwegian home textile retailer
Milarex – Norwegian food safety company
Royal Mail Group – UK-based postal service
Taylor Wimpey – UK-based home construction company
TCE Jeans Co., Ltd. – Vietnamese denim processor and manufacturer
Topdanmark A/S – Danish insurance company
Videndum plc – UK-based hardware and software solutions provider
Vinted plc – Lithuanianian online marketplace
Viña Casa Silva – Chilean vineyard
18 companies added to SBT approved this week:
DAI Global LLC – American development company
Nexans – French cable and optical fiber company
Ronald Lu & Partners – Hong Kong interior design firm
Asahi Woodtec Co., Ltd. – Japanese flooring company
HCL Technologies – India IT services company
Dr. Reddy's Laboratories Limited – Indian pharmaceutical company
Majid Al Futtaim Properties – UAE real estate company
Hulic Co., Ltd. – Japanese real estate and insurance company
Slaughter and May – UK-based international law firm
E.ON SE – German electric utility company
Acque Bresciane – Italian water supplier
Yamazen Co.,Ltd. – Japanese waste management company
Wheaton Precious Metals Corp.         – Canadian precious metals streaming company
Japan Real Estate Investment Corporation – Japanese REIT
Behari Lal Ispat PVT LTD – Indian steel manufacturer
Deuman – Chilean sustainable development company
Shilpa Alloys Private Limited – Indian steel casting company
STAG Industrial, Inc. – American REIT
Total number of companies committed to EP100: 123 
Total number of companies committed the SBTi: 3,091 (1,662 committed, 1,429 approved) 
Webinars & Events:    
SteelZero: Raising the demand side voice for net zero steel: 31 May
World Environment Day 2022: 5 June
2nd annual Sustainability Week US: 6-9 June (Discount code = WMBC/S15)
World Oceans Day 2022: 8 June
There is no ocean B. What we must do to restore our blue planet: 13 June
London Climate Action Week: 25 June – 3 July
Moral Money Summit Asia: 7-8 September
Climate Week NYC: 19 – 25 September (submit a proposal)
Moral Money Summit Americas: 26-27 October
Coalition jobs:   
Various posts at BSR
Various posts at CDP
Various posts at Ceres
Various posts at The Climate Group
Various posts at WBCSD
Various posts at SBTi
Various posts at CLG Europe