Project Gigaton: Walmart CEO on working with supply chains
We Mean Business Coalition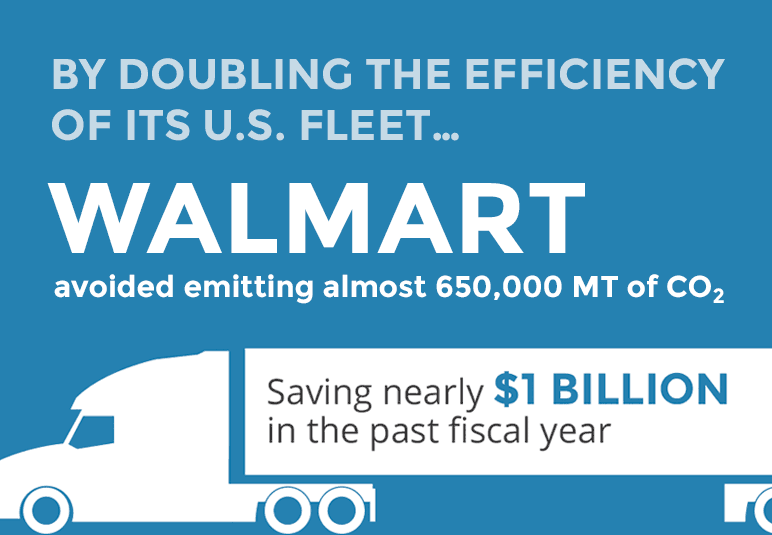 Walmart has unveiled its goal of cutting 1 gigaton of indirect (scope 3) greenhouse gas emissions (GHGs) by 2030. To achieve this transformation the retail giant will work with thousands of companies throughout its global supply chain.
Project Gigaton will invite suppliers to follow Walmart's lead in committing to reduce their GHGs using science-based targets. Science-based targets provide companies with a clearly defined pathway to future-proof growth, by specifying how much and how quickly they need to reduce their GHGs to help keep global temperature rises to below 2°C.
Many of Walmart's global suppliers already have science-based targets, such as PepsiCo, Dell, Diageo, General Mills, Kellogg and Sony, approved by the Science-Based Targets initiative – a partnership between CDP, UN Global Compact, World Resources Institute and World Wildlife Fund.
As part of its approach to working with suppliers to cut their emissions, Walmart has identified six key pillars to achieving the Gigaton challenge. The company will help suppliers target emissions reductions across the key areas of energy, agriculture, waste, packaging, deforestation and product use and design. When complete, it will reduce emissions equivalent to taking more than 211 million passenger vehicles off U.S. roads and highways a year.
Doug McMillon, CEO of Walmart, spoke about some of the challenges and opportunities of the project at the company's annual Milestone Summit, and highlighted the importance of systems thinking in achieving groundbreaking emissions reductions.
The challenge requires the entire value chain to be optimized, according to McMillon. This includes considering how the people who make the products are treated, the impact to the environment of the manufacturing process, how products are moved and sold and how they're treated at end of life.
"If you really think through the whole system, you end up helping all of the stakeholders," McMillon said.
"Every single one of us can do something. Merchants are making a difference, operators are making a difference… Some of those things will be small and some of those things will be big and when you add them all up, we'll achieve not only this target but the overall target of making the world more sustainable, and it will be our companies playing a role in that," he said.
Stakeholders across the value chain encouraged Walmart to continue to set aggressive targets, with a science-based approach tied to the bigger objective of slowing global warming, according to McMillion.
"Our reputation matters to us and people do think 'big is bad' and we're all sort of wired to think that way, so we need to find these human touch points… People need to know that we're doing good work and have the best of intentions," he added.
On the journey to achieving ambitious science-based targets, McMillion stressed the importance of engaging stakeholders with compelling stories, and also taking time to celebrate the progress already being made.
Walmart, the world's largest company by revenue, was the first retailer with a verified science-based target emissions-reduction plan, with a target to reduce its absolute scope 1 and 2 emissions by 18 percent by 2025. By taking action to cut emissions, Walmart saved nearly $1 billion in the past fiscal year and avoided emitting almost 650,000 metric tons of CO2, by doubling the efficiency of its U.S. fleet between 2005 to 2015.
Walmart suppliers can log their commitments at the Walmart Sustainability Hub.
Is your business ready to Take Action? We can help.