Net-zero transition – latest signals of change (25.11.22)
We Mean Business Coalition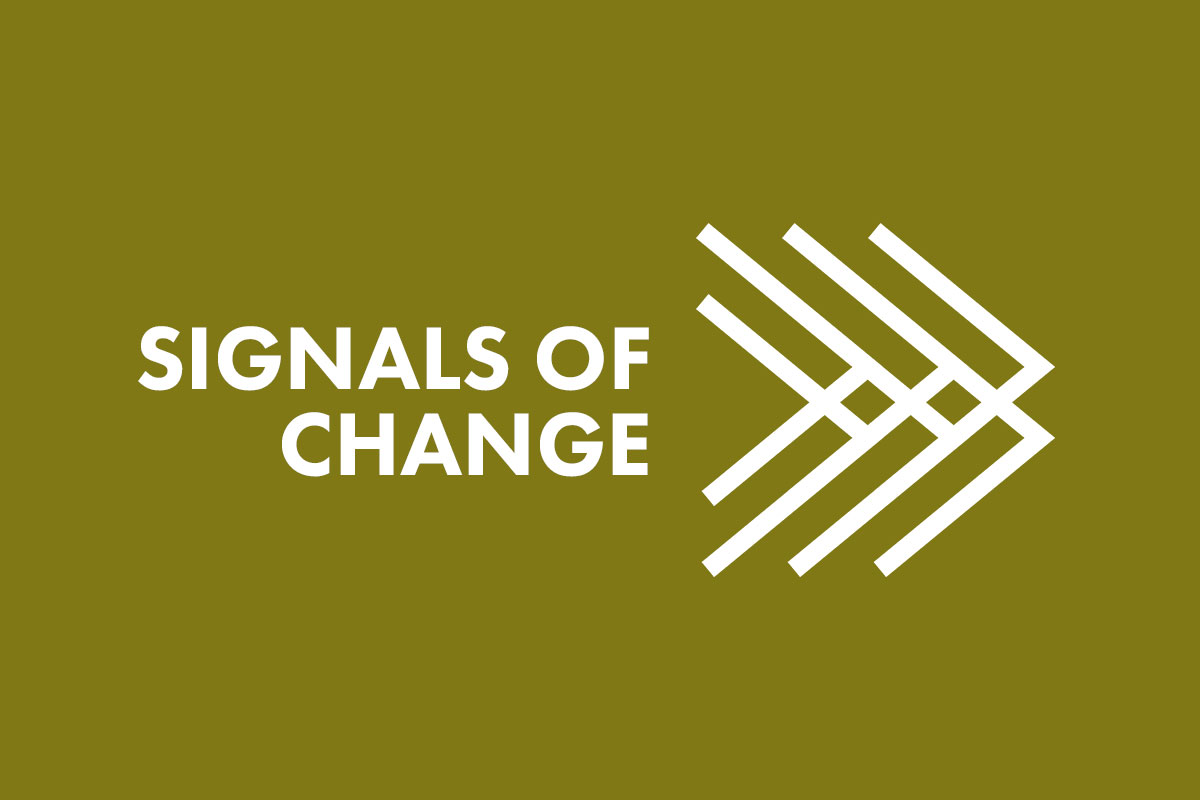 Now that COP27 is at an end, you can find a round-up of key announcements and stories here, and read the We Mean Business Coalition statement on the COP27 outcome. 
Here are the latest Signals of Change, demonstrating the transition to a resilient and inclusive net zero economy.
Net Zero Economy 
The announcement of an historic 'loss and damage' fund to finance climate action and disaster relief in developing countries stands out as the greatest achievement of the COP27 climate summit. The mechanism was lauded by Pakistan's climate change minister as "a down payment on investment in our futures and in climate justice." Countries maintained 1.5°C in the final cover decision – just – but the overall outcome was 'double-edged'. 
Elsewhere at COP, the Science Based Targets initiative (SBTi) announced that 4,000 companies have now committed to science-based targets (you can see the latest additions at the end of this article). Meanwhile, Cemex, Holcim and Titan become the first cement companies to set 1.5°C-aligned science-based targets – an important milestone in what is one of the hardest to decarbonize sectors.  
In a huge step forward for net zero economies and supply chains, the US government – the world's largest purchaser – proposed that all federal contractors must set science-based targets and disclose their environmental impact through CDP, following in Norway's recent footsteps. 
Staying with supply chains, on the final day of COP27 a group of businesses including Unilever, BT and IKEA issued a declaration calling on other companies to join them in halving value chain emissions by 2030. The 1.5°C Supply Chain Leaders said in a statement that "climate targets and actions in line with science are expected to become the new business as usual."

Lastly, in circular economies news, a new joint venture between Vodafone and WWF looks to further the network giant's plan to reach net zero emissions by 2040 and tackle e-waste across the industry. 'One Million Phones for the Planet' boosts Vodafone's circular economy strategy by significantly increasing the number of devices it refurbishes. According to Vodafone, buying a refurbished smartphone can save 50 kg of CO2 emissions and avoid the extraction of 76.9 kg of raw materials.
Energy 
Also at COP27, the US, Japan and partners announced a new Just Energy Transition Partnership (JETP) to help Indonesia close coal power plants and bring forward the sector's peak emissions date by seven years to 2030. Described as "probably the single largest climate finance transaction or partnership ever" by a US Treasury source, Indonesia is set to mobilize $20 billion in public and private finance.  
Two cities – Aberdeen in Scotland and Kobe in Japan – have received a H2 Twin Cities Award from the US Department of Energy to collaborate on clean hydrogen project work for the benefit of businesses and residents in both cities. The agreement covers seven work packages related to public engagement, ports, heating, jobs, emissions reductions, supply chains and management and reporting. 
There was still more good news for renewables in the US, where wind and solar energy are up 18% on this time last year and have grown by 58% compared to 2019. In total, the country has installed 11 GW of wind and solar energy in the past nine months. On top of this, the US government's energy tracker predicts that by the end of the year renewables will make up 22% of the USA's electricity mix – surging past coal at 20% and nuclear at 19%.
Next to France, where the country's first commercial-scale offshore wind farm began operations on Wednesday. Adding 480 MW of capacity to the grid, the plant provides enough clean energy to power 400,000 homes annually. The project is co-owned by EDF Renewables, EIH Sarl and CPP Investments. 
In the UK, Europe's biggest battery storage facility has just come online near Hull. The facility, which is made up of Tesla Megapack batteries, can store 98 MW of energy. The storage potential is considered crucial to maximize the future efficiency of the 3.6 GW Dogger Bank offshore wind farm, which is set to be the world's largest upon completion.  
Finally, to Ireland where renewables firm Energia and Microsoft have inked a deal which will see Energia supply electricity from renewable wind and solar assets to cover the tech giant's Irish operations. The agreement will add more than 900 MW of wind and solar energy to Ireland's grid. 
Transport 
In Denmark, ferry company Molslinjen has ordered two new electric ferries to run on its Jutland to Zealand route from 2024 onwards. The ferries, which can carry 600 passengers and 188 cars, will be able to charge fully within just 20-25 minutes.  
In Australia, electric vehicles (EVs) are about to become much cheaper thanks to a crossbench deal between the Greens, an independent and Labor to cut import tariffs and Fringe Benefits Tax on vehicles costing less than AUS $84,000. The move is expected to reduce the price of many EVs by up to AUS $9,000 for business vehicles and AUS $4,700 for individuals.  
Staying in the Southern Hemisphere, the Filippino president has approved the removal of tariffs on electric vehicles this week in order to spur demand amid high fuel costs in the country. With EV import duties ranging from 5% to 30%, the move could deliver significant savings.  
Meanwhile it's back to the future in Scotland where a 40-year-old retired ScotRail electric train is being retrofitted as a green hydrogen-powered unit. Hydrogen technology is being earmarked for some of Scotland's more remote railway routes. The project is a joint initiative between ScotRail, the University of St Andrews, Angel Trains and the Scottish Government, which has a target date of 2035 to decarbonize passenger rail transport. 
Land and Nature  
At COP27, the LEAF Coalition announced that financial commitments for the purchase of high-integrity emissions reduction credits have for the first time exceeded $1.5 billion – marking a 100% increase in financial commitments from the private sector since COP26. Volkswagen Group and H&M Group have become the latest global corporations to make financial commitments. 
Meanwhile, the Egyptian Presidency announced a new initiative aimed at closing the financing gap for implementing nature-based solutions. Launched in partnership with the International Union for the Conservation of Nature (IUCN), the new project aims to ensure that sustainable management practices are implemented on two billion hectares of ecosystems this decade, while a further 45 million hectares will be restored. Also at the summit, the US announced a Nature-Based Solutions Roadmap, pledging over $25 billion in infrastructure and climate funding specifically for nature-based solutions – along with a companion resource guide. 
Also at COP27, the Bill & Melinda Gates Foundation pledged $1.4 billion to help smallholder farmers in sub-Saharan Africa and South Asia cope with the impacts of climate change. According to the foundation, more than two billion people depend on smallholder farms for food and income, yet currently less than 2% of global climate-related finance is devoted to helping them adapt to climate change.  
Meanwhile the IKEA Foundation has announced plans to deploy €600 million in climate funding by 2025. To determine the best allocation of resources, the organization commissioned a study with systems change consultants Systemiq to identify the most effective areas for development, finding that financing projects around alternative proteins and reducing methane emissions from agriculture would ensure the highest impact.
Built Environment and Heavy Industry 
Announced on the sidelines of COP27, GM and Swedish power provider Vattenfall AB are the latest companies to join the ranks of the First Movers Coalition, which supports demand for low-carbon cement and steel. The initiative is now made up of 65 companies — from real estate to construction firms — with a collective market value of roughly $8 trillion. 
Next to West Africa, where a group of architects are reviving old construction methods for buildings which will keep homes comfortable as temperatures rise. In Burkina Faso, the Morija Medical Clinic has been built with pressed adobe (compacted soil that included gravel, sand and clay) rather than concrete due to the breathable qualities of the material. 
In the UK, supermarket giant Waitrose is ditching gas boilers in favor of heat pumps at 330 of its stores across the country. The move is part of its wider strategy to slash emissions and cut energy costs.  
Meanwhile in the US, Google spinout Dandelion Energy has raised $70 million to grow its operations focused on geothermal heat pumps. By drilling into the earth's crust in backyards, Dandelion taps into a secure reservoir of heat – even in winter – while in the summer the pump removes heat from the house to cool it. So far, the firm has installed 1,000 systems across New York, Connecticut and Massachusetts. 
Lastly, new research commissioned by ESG consultant Deepki has found that the value of sustainably built property can be as much as 25% higher than unsustainably built property. After surveying 250 commercial real estate management firms across Europe, the study also found that these properties are unlet for shorter periods of time and that commercial tenants are more willing to pay higher rents on these properties to lower their utility bills.  
Commitments 
1 company joined EP100: 
 E Ink – Taiwanese manufacturer 
3 companies joined RE100: 
Applied Materials – US-based manufacturer 
Samsung Biologics – South Korean biotech company
Samsung Electro-Mechanics – South Korean manufacturer 
25 companies committed to set science-based emissions reduction targets: 
AMC Natural Drinks – Spanish food and beverage company 
Arjo AB – Swedish healthcare equipment company 
Asia Air Survey Co.,Ltd. – Japanese professional services company 
Boehringer Ingelheim – German pharmaceuticals company 
Boliden AB (publ) – Swedish mining company 
Döhler Group SE – German food and beverage company 
Drylock Technologies NV – Belgian consumer products company 
Fuller, Smith & Turner P.L.C. – UK-based brewery and pub company 
GEODIS – French logistics company 
GROUPE SERVICES FRANCE (GSF) – French cleaning company 
Martin & Servera-gruppen – Swedish retailer 
Motability Operations Group PLC – UK-based financial services company
Obrascón Huarte Laín, S. A – Spanish construction and engineering company 
ORTEC GROUP – French logistics company 
OSI Group LLC – US food and beverage processing 
Parques Reunidos Group – Spanish leisure company 
Salmones Austral – Chilean food producer 
Samworth Brothers Limited – UK-based food producer 
Stillfront Group AB (publ) – Swedish gaming company 
The ODP Corporation – US-based office supply company 
Top Sports Textile Limited – Cambodian textiles company 
Vetropack Holding AG – Swiss packaging company 
Win Hanverky Holdings Limited – Hong Kong-based textiles company 
XINGDA INTERNATIONAL HOLDINGS LIMITED – Chinese component manufacturer 
55 companies committed to set science-based emissions reduction targets through the Net Zero Standard pathway: 
 AB InBev – Belgian brewery group 
Aeon Co., Ltd. – Japanese retail company 
AMP Wealth Management New Zealand – New Zealand-based investment firm 
ASM International N.V. – Dutch semiconductor manufacturer

Avarn Security Group Holding AS – Norwegian consumer services 
AYDEM YENİLENEBİLİR ENERJİ A.Ş. – Turkish electricity utility company 
BayWa Global Produce GmbH – German food company 
Bose – US-based consumer products and Durables company 
CK Hutchison Group Telecom Holdings Limited – Hong Kong-based telecommunications company 
Clear Channel International Holdings BV – UK-based advertising company 
Coupa Software – US-based software company 
Datatec Limited – South African IT company 
DELFINGEN – French components company 
Diversey – US-based chemicals company 
Ethos Facilities Ltd – UK-based cleaning company 
EVERVAN INTERNATIONAL LIMITED – Hong Kong-based textiles company 
Evervan International Cambodia, Limited – Chinese textiles company  
Evervan International Vietnam, Limited – Chinese textiles company 
First Financial Holding Co., Ltd. – Taiwanese financial holding company 
FLOURISH THRIVE DEVELOPMENTS LIMITED TAIWAN BRANCH – Taiwanese textiles company 
Gattaca PLC – UK-based professional services company
Gowling WLG (UK) Ltd – UK-based law firm 
Haberkorn Holding AG – Austrian construction company 
HAMELIN GROUP – French office supplies company 
Horana Plantations PLC – Sri Lankan food producer 
Innovation Group Holdings Limited – UK-based financial services company 
IOL chemicals and pharmaceuticals Ltd – Indian chemical producer 
KOCEL MACHINERY LIMITED – Chinese manufacturing company 
Landmark Information Group – UK-based property company 
Logicalis Group Limited – UK-based software company 
LONG WAY ENTERPRISE CO., LTD. – Taiwanese textiles company 
Lorenz Group – German food company 
Ma'aden Aluminum – Saudi Arabian mining company 
Mass General Brigham – US-based healthcare company 
Molson Coors Beverage Company – US-based brewery group 
PILOT KNIT SPORT WEAR (CAMBODIA) CO., LTD – Thai Textiles company  
ProCredit Holding AG & Co. KGaA – German financial holding company 
PT Austindo Nusantara Jaya Tbk. – Indonesian food producer 
PT Pan Brothers Tbk – Indonesian textiles company 
Raj Overseas – Indian textiles company 
SAGEMCOM – French tech company 
Saitex International Dong Nai – Hong Kong-based textiles company 
Schwan STABILO Cosmetics GmbH & Co. KG – German cosmetics company 
Shanghai Sunwin Industry Group Co.,Ltd – Chinese textiles company 
SigmaRoc – UK-based construction materials company 
SpareBank 1 Østlandet – Norwegian bank 
SSP Group plc – UK-based hospitality company
STERNE GROUP – French logistics company 
SUCHEME Groupe – French professional services 
Suzhou Bearing Factory Co Ltd. (SBF) – Chinese auto manufacturer

TEREOS – French food and beverage company 
Tobermore – UK-based construction materials company 
Tre (Hi3G Access AB) – Swedish telecommunications company 
Udaipur Cement Works Limited – Indian construction materials company 
Waystar Technologies, Inc. – US-based software company 
70 companies had their science-based emissions reduction targets approved: 
Advanced Chemistry Development, Inc. (ACD/Labs) – Canadian software company 
Allegro – Polish software company 
Alpek Polyester – US-based chemicals company 
American Axle & Manufacturing, Inc. – US-based components company 
AMICULUM Limited – UK-based professional services company 
Banque Pictet & Cie SA – Swiss investment firm 
Bodenmann Metzgerei AG – Swiss meat producer 
Boston Scientific Corporation – US-based healthcare company 
Brundtland Consulting – South African sustainability consultancy 
Bunzl plc – UK–based commercial services company

CAPSUM – French cosmetics company 
Casday (Thailand) Corporation Limited – Thai ceramic manufacturer 
CEMEX, S.A.B de C.V. – Mexican cement company 
Colisée Group – French healthcare services company
Coty Inc. – US-based cosmetics company 
Davidson Consulting – French professional services company
D-fine – German professional services company 
Deutsche Post DHL Group – German logistics company 
DONGGUAN KENNEX CERAMIC LTD. – Chinese manufacturer 
Emira Property Fund Ltd – South African real estate company 
Eton Group AB – Swedish retail company 
Fabasoft AG – Austrian software company 
Fleischtrocknerei Churwalden AG – Swiss meat producer 
Grundfos Holding A/S – Danish machinery manufacturer 
Grupo Iren Fruits – Spanish food company 
Gustav Spiess AG – Swiss food company 
Helen Ltd – Finnish electrical utility company 
Hinomaru Jidousya Co. Ltd – Japanese transportation company 
Holcim Ltd. – Swiss construction company 
Humanscale – US consumer products company  
Iberdrola SA – Spanish electricity utility company 
Icade – French real estate company 
Kunshan JC Industrial Technology Co., Ltd. – Chinese manufacturer 
L'Occitane International SA – Luxembourgish cosmetics company 
Labeyrie Fine Foods – French food producer 
Leverage Limited – Chinese professional services company 
LSTH Svenska Handelsfastigheter AB – Swedish real estate company 
MARTO Co.,Ltd. – Japanese fertilizer company 
Mediaset España Comunicación S.A. – Spanish media company 
Mips AB – Swedish consumer products company 
MURONAKA INDUSTRIES CO.LTD – Japanese electrical equipment company 
MVV Energie AG – German electric utilities company 
NG Bailey Group Limited – UK-based construction and engineering company 
Novozymes A/S – Danish biotechnology company 
Oh My Greens AB – Swedish food company 
Okartek Oy – Finnish packaging company 
Osborne Clarke LLP – UK-based law firm 
PET STAR HOLDING – Romanian plastic manufacturer 
Phoenix Zementwerke Krogbeumker GmbH & Co. KG – German cement company 
PredictX Ltd – UK-based software company 
Qingdao Reliance Machinery Co., Ltd – Chinese construction company 
Rathbones Group Plc – UK-based investment firm 
Rotork plc – UK electrical equipment company 
Royal DSM – Dutch chemicals company 
Royal Philips N.V. – Netherlands healthcare supplies company 
RT Knits Ltd – Mauritian textiles company 
Shoprite Holdings Limited – South-African retailer 
Speed Global Transportation Limited. – Chinese freight company 
Taziker Industrial Ltd – UK-based engineering company 
Ted Baker – UK-based retailer 
TIER Mobility SE – German mobility company 
TITAN Cement Group – Belgian cement company 
T-Mobile USA, Inc. – US telecommunications company 
VAUDE Sport GmbH & Co. KG – German textiles company 
Warmworks Scotland LLP – UK-based joint venture partnership 
WH Smith PLC – UK retailer 
Wieland Group – German mining company 
Wipf AG – Swiss packaging company 
Wuxi Jinhui Precision Machining co., ltd. – Chinese building materials company  
ZORDAN SRL SB – Italian construction company 
Total number of companies committed to RE100: 390 
Total number of companies committed to EP100: 125 
Total number of companies committed to EV100: 127 
Total number of companies committed to EV100+: 5 
Total companies committed to SBTi: 4,098 (2,116 committed, 1,982 approved) 
Total number of companies committed to SME Climate Hub: 5,205 
Webinars & Events:
Taking Small Business Climate Action with the SME Climate Hub: November 30 
COP15: December 5-17 
Coalition Jobs
Various posts at We Mean Business Coalition 
Various posts at BSR 
Various posts at CDP 
Various posts at Ceres 
Various posts at CLG Europe (CISL) 
Various posts at Climate Group 
Various posts at WBCSD 
Various posts at SBTi