Net zero transition – the latest signals of change (16.12.22)
We Mean Business Coalition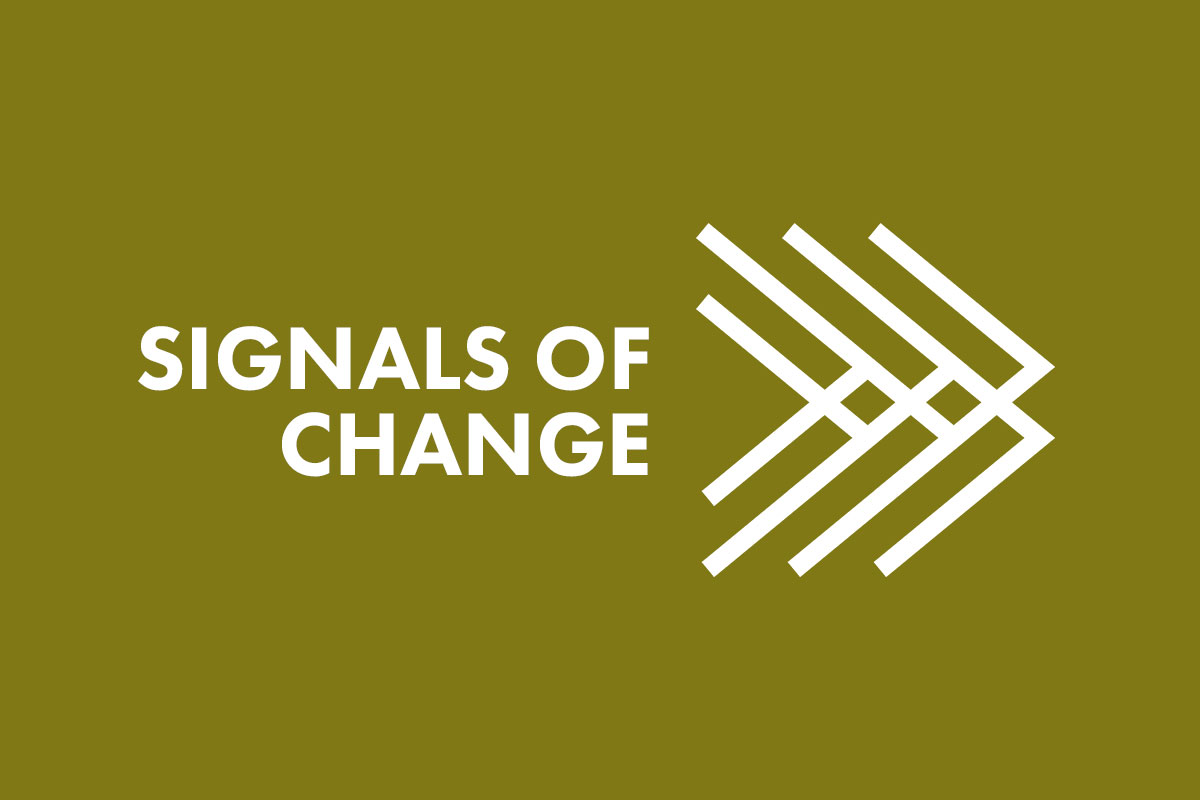 Here are the latest Signals of Change, demonstrating the transition to a resilient and inclusive net zero economy.

Net Zero Economy 
First up, We Mean Business Coalition partner CDP has released this year's corporate climate action 'A List', naming the 280 companies that scored highest for disclosing company information and sharing best practice action plans. This marks a 34% increase in the number of Grade A companies since 2021. Danone, L'Oreal and HP were among just 12 companies to receive a 'Triple A' rating on climate, deforestation and water policies.
In Brussels, EU negotiators struck a ground-breaking deal to impose a CO2 emissions tariff on imports of goods such as steel, cement, fertilizers, aluminum and electricity. Companies importing into the EU will be required to buy certificates to cover their embedded CO2 emissions. The move aims to prevent overseas firms undercutting domestic industries – as the latter are already required to buy permits from the EU carbon market – and to incentivize trading partners to decarbonize.   
In finance news, HSBC has updated its climate policy to end funding for new oil and gas fields. The bank said it would continue to finance energy companies to help them overhaul their businesses and drive development of cleaner energy sources. "The world cannot get to a net zero energy future without energy companies being at the heart of the transition," said HSBC's Chief Sustainability Officer – and We Mean Business Coalition board member – Celine Herweijer. 
And in supply chain mobilization news, Britvic has called on its key suppliers – covering 70% of the company's scope 3 emissions – to set science-based emissions reduction targets. Britvic will update its contractual requirements on environmental sustainability for key suppliers over the next 12 months, which will include the obligation to sign up to the digital EcoVadis and Sedex supply chain sustainability disclosure platforms. Fellow UK-based drinks maker Diageo also unveiled plans to deliver the world's first facility capable of delivering net zero emission glass bottles at scale by 2030. Through using green electricity and low carbon hydrogen, the plant will produce glass bottles that result in 90% lower emissions than current conventional methods. 
Energy 
Vietnam was this week the latest country to sign a major Just Energy Transition Partnership (JETP), that will mobilize $15 billion of public and private finance to accelerate the nation's transition away from coal. Finance will come from countries including Canada, Japan and France, who have also called on members of the Glasgow Financial Alliance for Net Zero (GFANZ) to contribute to the scheme. The country aims to peak its power sector emissions by 2030, brought forward from 2035, with renewables contributing 47% of its overall energy mix by 2030. 
In Morocco, the OCP Group has publicly committed to spend $12.3 billion to increase fertilizer production from green energy sources by 2027. The company will invest solely in solar and wind projects to help it produce both green ammonia and green hydrogen. As part of the new initiative, OCP will also invest in desalination powered by renewable energy to support its operations. 
In the US, Microsoft has shared its successes in integrating environmental justice into its renewable energy procurement through collaborating on Emerald Cities Collaborative's Just Transition PowerForce. Activities have included 500 MW of solar energy commissioned to power Microsoft's data centers, combined with $50 million of investment in community-led education, career training, habitat restoration, and clean energy and energy efficiency programs.
Meanwhile, Amazon announced a new investment in Moxion Power via its Climate Pledge Fund, in a move to expand the use of new clean energy batteries on its Amazon Studios sets. The batteries are set to replace polluting diesel generators that are estimated to be responsible for around half the emissions associated with film and TV production.
Lastly to the UK, where two major developments incorporating ground-mount solar panels and battery storage systems were revealed. Renewable Connections has been given the go-ahead for a solar farm coupled with battery storage in eastern Scotland, which is expected to provide enough electricity to support the needs of up to 12,000 homes. Meanwhile, RWE plans to develop a solar and battery facility on the same land as its existing Tween Bridge onshore wind farm in north-east England, to be operational by 2029, providing up to 600 MW of new capacity. 
Transport 
New data shows that the cost of owning and running an electric car is now lower than petrol or diesel equivalents in almost every country in Europe. Automotive lease provider LeasePlan, which has 1.9 million vehicles used by corporate fleets, collated running costs and lease prices for its vehicles, comparing them by segment and across 22 countries. The results show that battery vehicles remain more expensive than traditional engine models to buy, but have lower running costs because of less maintenance and cheaper refueling. The research was released in the same week that Toyota announced plans to launch five new electric vehicles on the European market by 2026.  
In Indonesia, the government is finalizing plans for a $5,000 subsidy for sales of domestically produced electric cars. The subsidy is meant to boost local sales of EVs threefold by 2030, while also bringing in manufacturers to realize the vision of having an end-to-end EV supply chain onshore. The automanufacturer Hyundai opened an EV plant on the outskirts of the capital Jakarta in March, where it will begin to use locally made batteries from 2024. 
In India, Mahindra announced a new $1.2 billion electric SUV factory to be built in Pune, western India, where it will produce electric SUVs under the XUV and BE brands. BloombergNEF estimates that EVs will account for about 59% of new car sales in India by 2040, compared with 85% in China and 79% in the US. 
Finally to the US, where the country's 480,000 school buses are starting to turn electric thanks to fast-moving technology and incentives introduced by the Inflation Reduction Act. While upfront costs are high, this is expected to fall as scale goes up. As well as helping the climate, benefits include lower maintenance costs and health advantages, as children using the buses are exposed to less air pollution. 
Land and Nature 
Announced at the COP15 Biodiversity Summit in Montreal, Canada, the Nature Action 100 initiative aims to drive greater corporate ambition and action to tackle nature loss and biodiversity decline. Launched by Coalition partner Ceres and 11 global investors, it will mirror the approach of the Climate Action 100+ initiative and leverage the voices of shareholders to catalyze private sector action through investor-company engagements. The list, made up of 100 companies in key sectors that are deemed to be systematically important to the goal of reversing nature and biodiversity loss by 2030, will be announced next year. 
Also at COP15, another Coalition partner, WBCSD, published new guidance for companies in their Roadmap to Nature Positive. Developed in recognition of the fact that more and more large businesses are pledging to go beyond doing less harm to nature and to achieve net positive impacts, the resource is designed to ensure that businesses take the necessary actions to ensure their goals are credible, and to deliver them on time. The draft is open for stakeholder input until the end of January. 
In another announcement from Montreal, luxury fashion company Kering has partnered with multinational beauty brand L'Occitane Group to launch a €300 million Climate Fund for Nature, as part of the latter's pledge to reach net zero by 2030. The fund will mobilize finance from the luxury fashion and beauty sectors to support projects that help restore and protect nature, train farmers and empower women. €140 million has already been committed, and other industry players are invited to contribute.  
And with research suggesting investments in nature-based solutions need to at least triple by 2030, there was another boost to nature financing from Climate Asset Management. The natural capital investment manager formed by HSBC Asset Management and Pollination Group has raised $650 million for projects that protect the environment. Its Natural Capital Fund targets investment in regenerative agriculture and forestry projects in developed markets, while its Nature Based Carbon Strategy taps into increasing corporate demand for verifiable carbon offsets, and will finance nature-based carbon projects in developing economies. 
Built Environment and Heavy Industry 
In built environment news, Japan's capital Tokyo has passed a new regulation that all new houses in the city built by large-scale homebuilders after April 2025 must install solar panels to cut household carbon emissions. The mandate, the first of its kind for a Japanese municipality, requires 50 major builders to equip homes of up to 2,000m² with renewable energy power sources. Just 4% of buildings where solar panels could be installed in the city currently have them. 
In Norway, Norsk Hydro has sealed a deal with Mercedes-Benz to provide low-carbon aluminium for a range of models from 2023, as the carmaker continues to decarbonize its supply chain. Makers of electric cars are looking to use more aluminium to make them lighter to increase mileage, and Norsk Hydro aims to meet this need with a product that's CO2 emissions per kilogram are around five times lower than the global average. Mercedes-Benz aims to reach near-zero carbon aluminium and halve its emissions overall by the end of 2030.
This week also saw a call from 40 major fleet managers for the EU to set 2035 as the deadline for ending the sale of all new trucks which are not zero-emissions. An open letter was signed by companies from across the heavy goods vehicle value chain, who are signatories to Coalition partner The Climate Group's EV100 initiative. The firms, including Oatly, APL Logistics and Currys state that a 2040 date would likely be incompatible with the bloc's decarbonization targets. 
And to round off the year's signals of change on a seasonal note, a Japanese startup has debuted a new form of cement made from food waste, in a development that could make human-sized gingerbread houses a reality. Fabula Inc's method is to dry out food waste, turn it into a powder, and then heat-press it into a mould. They've so far turned the new cement into tiles and panels, as well as consumer products, all of which will eventually biodegrade. 
Commitments 
1 company committed to renewable energy through RE100: 
Sumitomo Rubber Industries – Japanese tyre manufacturer 
31 companies committed to set science-based emissions reduction targets: 
AccorInvest Group S.A. – Luxembourgish hotel group 
Behn Meyer Holding AG – German chemical company 
Blue Apron LLC – US-based food delivery company 
Carlisle Companies Incorporated – US-based construction materials company 
CERATIZIT S.A. – Luxembourgish engineering group 
Corden Pharma – Luxembourgish pharmaceutical company 
Darling Ingredients Inc. – US-based food company 
Delete Group Oyj – Finnish cleaning company 
discoverIE Group plc – UK-based electrical component company 
DSB – Danish train company 
Europris ASA – Norwegian retailer 
Far EasTone Telecommunications Co., Ltd. – Taiwanese telecoms company 
Forace Polymers Pvt. Ltd. – Indian chemical company 
H&T Presspart – German healthcare company 
Hilti Corporation – Liechtensteinian electrical equipment manufacturer 
HYUNDAI Engineering & Construction – South Korean engineering company 
Itochu Techno-Solutions – Japanese tech company 
Japan Elevator Service Holdings Co., Ltd. – Japanese maintenance company 
Körber AG – German electrical equipment manufacturer 
Leroy Merlin Companhia Brasileira de Bricolagem – Brazilian retailer 
Manuchar NV – Belgian chemical distributor 
Morrison & Co – New Zealand-based asset manager 
PANZANI – French food manufacturer 
Shanghai Sunrise Medical Technology Co., Ltd. – Chinese medical device manufacturer 
SHS – Stahl – Holding – Saar – German steel producer 
Siegwerk Druckfarben AG & Co. KGaA – German chemical manufacturer 
Storable – US-based software company 
Swisscom – Swiss telecoms company 
The Positive Thinking Company S.A. – Luxembourgish software company 
WONDER Group – UK-based consumer products company 
Zhuhai/Chongqing CosMX Battery Co., Ltd – Chinese battery manufacturer  
22 companies committed to set science-based emissions reduction targets through the Net Zero Standard pathway: 
APL Logistics LTD – Singaporean freight company 
APTIM – US-based logistics company 
Belcan International Ltd – UK-based engineering company 
BERICAP HOLDING GMBH (BERICAP GROUP) – German packaging manufacturer 
Beurer GmbH – German medical equipment company 
Coretronic Corporation – Taiwanese electronics manufacturer 
EMCOR Group, Inc. – US-based construction company 
FTI Consulting, Inc. – US-based consulting firm 
Geomatikk Holding AS – Norwegian software company 
Granlund Group – Finnich construction company 
Guangdong Gaoyi Packaging Technology Co., Ltd. – Chinese packaging manufacturer 
Kubrick Group Limited – UK-based consultancy 
Lami Packaging(Kunshan)Co., Ltd. – Chinese packaging company 
Nihon Yamamura Glass Co., Ltd. – Japanese packaging company 
Pinterest, Inc. – US-based software company 
SHL Medical – Switzerland healthcare equipment manufacturer 
Sinova GmbH – German food company 
Slalom – US-based software company 
Synopsys, Inc. – US-based software company 
Teknion Limited – Canadian furniture company 
Twilio – US-based software company 
Zhejiang Texwell Textile Co., Ltd. – Chinese textiles company 
62 companies had their science-based emissions reduction targets approved: 
A.S. Watson Holdings Limited – Chinese food producer 
Ana Holdings Inc. – Japanese airline 
Assa Abloy AB – Swedish technical equipment manufacturer 
Auger Site Investigations Limited – UK-based maintenance company 
Bank of Ireland Group – Irish bank 
Bioregional Development Group – Spanish NGO 
Bramming Plast-Industri A/S – Danish furniture company 
Buckley Gray Yeoman – UK-based architecture firm 
Cappelen Damm Holding AS – Norwegian media company 
Capri Holdings Limited – UK Virgin Islands-based fashion company 
CEMEX, S.A.B de C.V. – Mexican cement company 
CK Hutchison Group Telecom Holdings Limited – Hong-Kong-based telecoms group 
Cloudfm Group Limited – UK-based real estate company 
CMPC – Chilean forestry company 
Daiseki Co., Ltd. – Japanese waste management company 
Danish Crown A/S – Danish meat producer 
FRASERS PROPERTY DEVELOPMENT SERVICES (VIETNAM) CO., LTD. – Vietnamese real estate company 
FUJI ELECTRIC CO., LTD. – Japanese electrical equipment company 
Ghelamco Poland – Polish real estate company 
GoCardless – UK-based fintech company 
Godsinlösen Nordic AB – Swedish consultancy 
GoodDr Marketing&Consulting Co.,Ltd – Chinese media company 
Heimstaden Bostad AB – Swedish real estate company 
Home search Co.,Ltd. – Japanese real estate company 
Jinan Faithcast Machinery Co.,Ltd. – Chinese steel producer 
Kawase Plastic Industry Co.,Ltd. – Japanese waste management company 
Kindred Group plc – Swedish software company 
Kokufu Printing Co., Ltd. – Japanese consumer products company 
Las Vegas Sands Corp – US-based hotel company 
M&C Saatchi PLC – UK-based communications agency 
Marel – Icelandic food processing equipment manufacturer 
MDT technologies GmbH – German electrical equipment company 
MIWATECH CO., LTD. – Japanese manufacturer 
MSCI Inc. – US-based fintech company 
Northwest Commonwealth, LLC – US-based consultancy 
NV Bekaert SA – Belgian steel products manufacturer 
Open Air Group – Swedish retail group 
Osawa Wax Co.,Ltd. – Japanese packaging company 
Pi Group Ltd – UK-based interior design company 
RATP – French public transport utility 
Rubel & Ménasché – French jewelry company 
Ryde Technology AS – Norwegian mobility company 
ScottishPower – UK-based power utility 
SGS SA – Swiss professional services company 
Shinoda Co., Ltd. – Japanese energy provider 
SOL-PLUS CO.,LTD – Japanese plastic producer 
STHREE PLC – UK-based recruitment agency 
TEAMWORK Agentur für angewandtes Marketing – German marketing company 
The Energy Saving Trust Limited – UK-based public-private partnership 
The Lift Consultancy – UK-based consultancy 
The Travel Chapter Limited – UK-based travel company 
The Travel Corporation – Swiss travel company 
Tokai Maintenace Control Co.,ltd – Japanese electronics company 
TOKAI SHOHAN CO.,LTD – Japanese engineering company 
VCCP Group LLP – UK-based media company 
Viatris Inc. – US-based pharmaceuticals company 
Wallenstam AB – Swedish real estate company 
WENZHOU KAICHENG MACHINERY CO.,LTD – Chinese metal producer 
Wickes Group PLC – UK-based retailer 
Zhejiang Guangtao Healthy Kitchen Utensils Co., LTD – Chinese building products company 
ZHEJIANG JWK FILTRATION TECHNOLOGY CO., LTD. – Chinese electronics manufacturer 
Zhejiang Tongli Heavy Machinery Manufacturing Co.,Ltd – Chinese engineering company 
Total number of companies committed to RE100: 394 
Total number of companies committed to EP100: 126 
Total number of companies committed to EV100: 127 
Total number of companies committed to EV100+: 5 
Total number of companies committed to SteelZero: 29 
Total number of companies committed to ConcreteZero: 20 
Total companies committed to SBTi: 4,237 (2,157 committed, 2,080 approved) 
Total number of companies committed to SME Climate Hub: 5,390 
Webinars & Events

COP15: December 5-17
World Economic Forum – Annual Meeting Davos 2023: January 16-20
UNEP FI Sustainable Investment Forum Europe 2023: March 28 
Coalition Jobs

Various posts at BSR 
Various posts at CDP 
Various posts at Ceres 
Various posts at CLG Europe (CISL) 
Various posts at Climate Group 
Various posts at WBCSD 
Various posts at SBTi